Double-A Reading changes name to Fightin Phils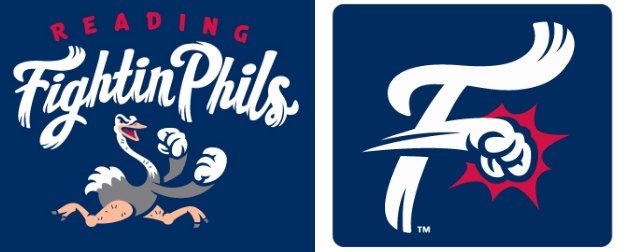 The ostrich and fist logos of the Reading Fightin Phils. (Reading Fightin Phils)
Since it's a slow news day, we turn our attention to minor-league branding. Since 1967, Reading, Pa., has hosted the Phillies' Double-A affiliate. For that entire time, they've been known as the Reading Phillies. Saturday, the team announced it will now be known as the Reading Fightin Phils. And their mascot? An ostrich.
According to the team, the ostrich "represents the fighting spirit of the franchise." The team's Crazy Hot Dog Vendor, according to reports, rides his pet ostrich during his on-field routine.
As silly as that is -- and it is, but it's minor-league baseball, home to the Flying Squirrels, Blue Wahoos and Sand Gnats -- what's actually ridiculous is that the team will have four different uniforms and a whopping seven different hats.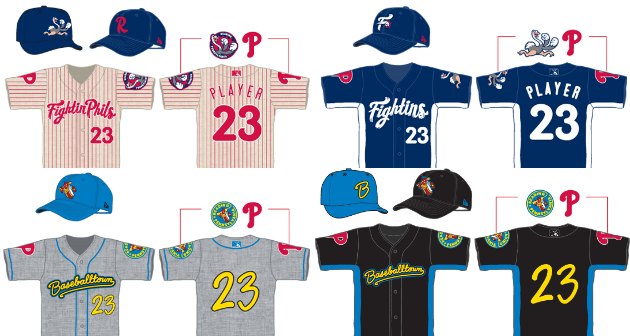 In addition to the six caps shown, the team will also have a red batting practice hat. (Reading Fightin Phils)
One home jersey, a replica of the 1950 "Whiz Kids" Phillies, is cream-colored with "Fightin Phils" across the chest. The other home uniform is navy and says just "Fightins."
The road jersey, though, eschews the Reading moniker altogether, instead proclaiming the team as from "Baseballtown," on both the gray faux-flannel uniform and the black uniform, which the team says will also be used for "select" home games. The gray uniforms will be paired with a lighter blue hat with a picture of anthropomorphic hot dog. The black jersey gets either a black hot dog hat or a blue hat with a yellow B.
Oh, and then there's a red batting practice hat with the team's "Fist" logo -- an F with a fist, that also appears on one of the team's three home caps. All three home caps are navy, one with the F, one with a "feathered" R and the other with the ostrich.
In total, it appears the team has at least five different official colors -- navy, light blue, red and yellow.
While I've always been bored by teams that simply use the name of their parent club, the Fightin Phils moniker and excessive branding seem to be just a bit over the top -- and I say that as someone wearing a Blue Wahoos hat as I write this.
For more baseball news, rumors and analysis, follow @EyeOnBaseball on Twitter, subscribe to the RSS feed and "like" us on Facebook.