Video Game Numbers: An ode to the 'steroid era'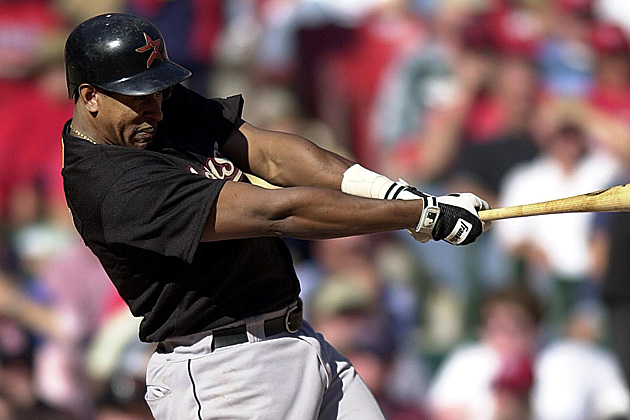 Richard Hidalgo finished 20th in 2000 MVP voting with ridiculous numbers. (Getty Images)
Being that it's the day before Thanksgiving, it's bound to be a slow baseball news day. And being as big a baseball dork as I am, one of the things I love to do when it's slow is comb through old numbers on baseball-reference.com and reminisce.
In doing so, every once in a while I stumble upon a gem of a line like this:
.314/.391/.636 with 44 homers, 122 RBI, 118 runs, 42 doubles, 13 stolen bases.
For comparison's sake, Triple Crown winner and AL MVP Miguel Cabrera had the following line this season:
.330/.393/.606 with 44 homers, 139 RBI, 109 runs, 40 doubles, four stolen bases.
So what studly slugger posted a line similar to Miggy's historic 2012? That would be the immortal Richard Hidalgo. And it was good enough to finish -- wait for it -- 20th in NL MVP voting in 2000. Actually, check that. Hidalgo tied for 20th with teammate Moises Alou. Alou, by the way, hit .355(!) with 30 homers and 114 RBI.
I don't think there could be a more perfect illustration for how powerful offense was in the so-called "Steroid Era." It was ridiculous. There were guys routinely finishing outside the top five or top 10 in MVP voting with numbers that would handily win in any other era. So let us take a stroll through some of the video-game numbers.
Eye on Baseball
Offseason stat series
(Note: Before I go any further, let us clear the air. I don't like the term "Steroid Era," because it implies everyone was using. Some players -- such as Chipper Jones and Todd Helton, to name two -- put up absurd numbers and I believe they were clean. It's entirely possible most of the players I mention here were clean. Plus, many pitchers were juicing. So this isn't a post about PEDs. It's a post about the insane offensive numbers that were being posted at the time. If you accuse me of accusing anyone of anything, you are off base.)
Anyway, off we go -- a look at some utterly offensive numbers (double entendre alert!) and how low the player posting said numbers finished in MVP voting due to the overall absurdity of offense at the time:
• In 1996, Brady Anderson hit .297/.396/.637 with 50 homers, 110 RBI, 117 runs and 21 stolen bases. He finished ninth in AL MVP voting. In the same vote, Jay Buhner had 44 homers and 138 RBI and finished 17th. Chuck Knoblauch hit .341 with a .448 OBP, 140 runs scored, 45 stolen bases, 35 doubles, 14 triples, 13 homers -- and finished 16th.
• Over in the NL in '96, Barry Bonds hit .308/.461/.615 with 42 homers, 129 RBI, 122 runs and 40 stolen bases. Yes, he went 40-40, among other things. He posted a 9.4 WAR, which is historically good. And he finished fifth in NL MVP voting. How about this line: 315/.451/.570 with 31 homers, 120 RBI, 111 runs, 48 doubles and 21 steals. That was Jeff Bagwell. And that was good enough for a ninth-place finish.
• This is lunacy. Put aside your hatred for Alex Rodriguez before reading this, please. A-Rod hit .310/.360/.560 with 42 homers, 124 RBI, 123 runs, 35 doubles, 46 steals and an AL-best 213 hits in 1998. He finished ninth in AL MVP voting. Ninth! Or how about this: Rafael Palmeiro hit .296/.379/.565 with 43 homers and 121 RBI. That was good enough for a tie for 18th place.
• Of course, the NL in 1998 had Sammy Sosa and Mark McGwire shattering Roger Maris' single-season home run record. So we know things were a bit off. And, boy, were they. Try this line from Vladimir Guerrero on for size: .324/.371/.589, 38 homers, 109 RBI, 108 runs, 37 doubles, seven triples and 11 steals. Any guesses as to where he finished in NL MVP voting? Try 13th.
• Here's one of my favorites. How would this line fare in 2012 NL MVP voting: .288/.367/.635, 63 homers, 141 RBI, 114 runs? Did you guess ninth? Yeah, sure you did, but that's actually where Sammy Sosa finished in 1999. Mark McGwire hit 65 homers and drove home 147 runs and only finished fifth. For a more-human-albeit-still-awesome line, Brian Giles hit .315/.418/.614 with 39 homers, 115 RBI, 109 runs and finished 19th.
• Over in the AL in '99, Ken Griffey Jr. (a posterboy for the clean through this stained era) hit .285/.384/.576 with 48 homers, 134 RBI, 123 runs and 24 stolen bases. He finished 10th in MVP voting. But how about this name? John Jaha hit 35 homers and drove home 111 with a .970 OPS. He tied for 18th.
• More Sammy: In 2000, Sosa hit .320/.406/.634 with 50 homers, 138 RBI and 106 runs. He again checked in at ninth in NL MVP voting. Also note the above examples of Alou and Hidalgo in this vote.
• Nomar Garciaparra hit .372 in 2000. His entire line: .372/.434/.599 with 21 homers, 96 RBI, 104 runs and 51 doubles. That was good enough for ninth in the AL MVP voting. Edgar Martinez hit .324/.423/.579 with 37 homers, 145 RBI, 100 runs and came in sixth.
• Yes, there was a Coors Field stigma at the time, but still -- Larry Walker hit .350/.449/.662 with 38 homers, 123 RBI, 107 runs and 14 stolen bases and finished tied for 24th in NL MVP voting in 2001. Teammate Helton hit .336/.432/.685 with 49 homers, 146 RBI and 132 runs and came in ninth. It wasn't just Rockies, though, carrying the inflated stats. Phil Nevin hit .306/.388/.588 with 41 homers and 126 RBI and came in 21st.
• In 2002, Jim Thome hit .304/.445/.677 with 52 homers, 118 RBI and 101 runs. Depending upon how his team finished in the standings, that wins these days, but it was only good enough for seventh in AL MVP voting that year.
• How about some Richie Sexson? In 2003, he had 45 homers and 124 RBI. He placed 12th in NL MVP voting.
There are so many more examples, but you get the point. Comparing that era to what we see today feels like a totally different game. We saw six players hit at least 40 homers this year after only two did so in 2011. During the height of the "steroid era," it was well into double figures almost every season.
Also, while we're here, I feel compelled to point out the greatness of Pedro Martinez. Through all of that you read above, Martinez's average season from 1997-2003 was 17-5, 2.20 ERA, 0.94 WHIP, 252 K, 45 BB, 201 IP, 5 CG, 2 SHO. Again, that was his average season for those seven campaigns. Probably the greatest takeaway from this exercise is that Pedro Martinez in his prime was perhaps the best pitcher in baseball history.
The other takeaway? That's why using the "plus" stats (OPS+ and ERA+ as explained our "best stats" series) is so helpful when comparing players from different eras.
For more baseball news, rumors and analysis, follow @EyeOnBaseball on Twitter, subscribe to the RSS feed and "like" us on Facebook.