Russell Wilson made the right choice with football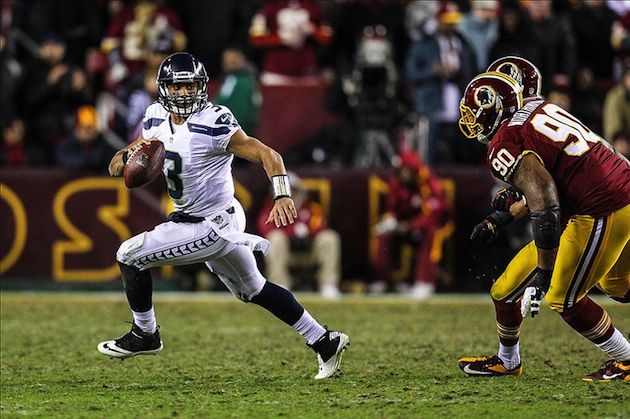 Russell Wilson chose wisely. (US Presswire)
If you're a football fan -- or even if you're not -- you've probably already heard about Seahawks quarterback Russell Wilson. And if you've watched even part of a Seahawks game on TV this season, you've heard a reference to his baseball career.
If you haven't, you are sure to hear more about it in the upcoming week -- or weeks -- as Wilson led his team to a playoff victory over Washington on Sunday, passing for 187 yards and running for 67 more in the victory.
As if his senior year at Wisconsin or being drafted or anything else he did in his rookie year didn't tell you already, Wilson made a wise choice when he gave up baseball to focus on football.
So what kind of baseball player was Wilson? The Orioles drafted him in the 41st round in 2007 after he told teams he wasn't going to sign -- and true to his word, he didn't sign. The Rockies took him in the fourth round of the 2010 draft and he signed for $250,000 when Colorado said it would let him continue his football career at North Carolina State. He has since returned much of that signing bonus.
Well, entering the 2011 season, Baseball America had him labeled as the Rockies' 19th-best prospect, it also had him listed as the best athlete and fastest baserunner in the organization. In the Baseball America 2011 Prospect Handbook, they wrote:
"He has the athleticism and aptitude that gave scouts the reason to believe he could be a quality infielder. He has game-changing speed but has to learn the subtleties that will allow him to turn it into an asset. He understands the offensive game, hitting the ball the other way and incorporating the bunt into his game, and scouts have long liked his fairly compact swing."
Wilson hit .230/.336/.377 with two homers and four stolen bases in 32 games and 143 plate appearances for short-season Tri-City of the Northwest League in 2010. He played in 61 games at low-Class Asheville in 2011, hitting .228/.366/.342 with three home runs, 15 stolen bases and 82 strikeouts in 61 games and 236 plate appearances. He left baseball in June of 2011 to go to Wisconsin, where he transferred for his senior season.
Although he obviously had baseball talent, the Rockies' Marc Gustafson told Larry Stone of the Seattle Times last year, that it was obvious Wilson hadn't played enough baseball.
"He was a football player trying to play baseball," Gustafson told Stone. "He was very talented, but needed a lot of work."
For more baseball news, rumors and analysis, follow @EyeOnBaseball on Twitter, subscribe to the RSS feed and "like" us on Facebook. Follow C. Trent Rosecrans on Twitter here: @ctrent.