Happy birthday, Baseball-Reference.com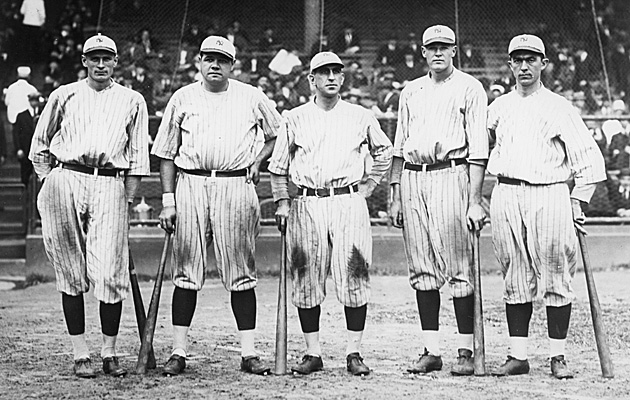 Thanks to Baseball-Reference.com, finding stats for 'Murderer's Row' is easy for all with Internet access. (Getty Images)
On Feb. 1, 2000, a baseball statistics website by the name of Baseball-Reference.com launched. Thirteen years later, those of us in the business of writing about baseball can't possibly live without it.
It's not a site for so-called "stat geeks" to talk just about advanced metrics like WAR that old-schoolers seem so determined to hate. No, it's much more than that. It has everything you could ever want from a statistical standpoint.
For example, I just used it to isolate six starts of Chad Billingsley's for my previous posts here in Eye on Baseball -- all in two easy clicks.
If you want to know how many players have ever hit over .300 with at least 40 homers, 100 runs, 100 RBI and 40 doubles in a season, you can find out. In fact, let's do that.
The answer is 31. It took me less than two minutes, thanks to Baseball-Reference.com's player index. And, man, look at some of these seasons. Babe Ruth hit .378 with 59 homers, 171 RBI, 177 runs and 44 doubles in 1921. He even drew 145 walks en route to a ridiculous 1.359 OPS. That's just silly. The most recent player to hit all those marks? Why, 2012 AL MVP Miguel Cabrera, of course. Most unlikely name on the list? Richard Hidalgo. I've covered his amazing season before -- and I relied heavily upon Baseball-Reference.com in working up that piece.
Exercises like this take place all year for people in my line of work. So on Baseball-Reference.com's 13th birthday, I'd like to express my gratitude.
Thank you, Baseball-Reference.com, for making my life unbelievably easier.
Hat-tip: Ms. Alanna Rizzo
A big 13th birthday to @baseball_ref.A site I go to a million times a day. Thanks for all the information. You make me sound smart!

— Alanna Rizzo (@alannarizzo) February 1, 2013
For more baseball news, rumors and analysis, follow @EyeOnBaseball on Twitter, subscribe to the RSS feed and "like" us on Facebook. Also, individually interact with us on Twitter: @MattSnyder27, @daynperry and @mikeaxisa.