WBC update: Bad defense, bad managing send Italy home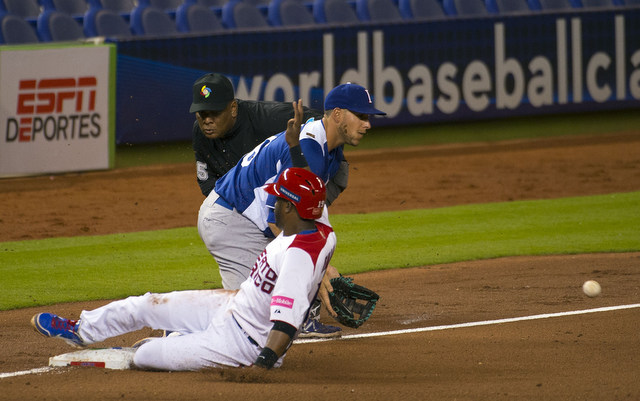 Full World Baseball Classic coverage
Italy's Cinderella run through the World Baseball Classic came to an end on Wednesday. Puerto Rico took advantage of defensive miscues and poor management to overcome a three-run deficit, winning the game 4-3 to setup a date with the loser of Wednesday night's USA-Dominican Republic matchup in an elimination game on Friday night.
Anthony Rizzo gave Italy a 3-0 lead with a bases-clearing double in the fifth inning, and the club took a 3-1 lead into the bottom of the eighth. Manager Marco Mazzieri opted to save closer Jason Grilli for the save opportunity that never came, instead cycling through four non-big league pitchers against the likes of Carlos Beltran, Yadier Molina, Mike Aviles and Alex Rios.
Puerto Rico rallied for three runs in the eighth, the final run scoring when Rios hustled around to score from second on an infield single thanks to a few bobbles from the defense. Grilli, who pitched to a 2.91 ERA with 13.8 K/9 in 58 2/3 innings for the Pirates last season, never got into the game. Pretty brutal managerial job there. He should have been in the game when Puerto Rico tied it and had the go-ahead run at second in scoring position at the absolutely latest. There's a good argument to be made that he should have started the inning to face Puerto Rico's big league hitters.
Alas, Italy's WBC run came to end after two games in the second round, which is a lot farther than most expected them to go. They beat Mexico and Canada in the first round to advance, then gave us this great GIF in the second record despite two losses in two games. There's no guarantee using Grilli at some point in the eighth would have given them the win, but he should have at least gotten a chance.
For more baseball news, rumors and analysis, follow @EyeOnBaseball on Twitter, subscribe to the RSS feed and "like" us on Facebook. Also, individually interact with us on Twitter: @MattSnyder27, @daynperry and @mikeaxisa.