Cervelli, serving as human insurance in minors, tries to maintain positive attitude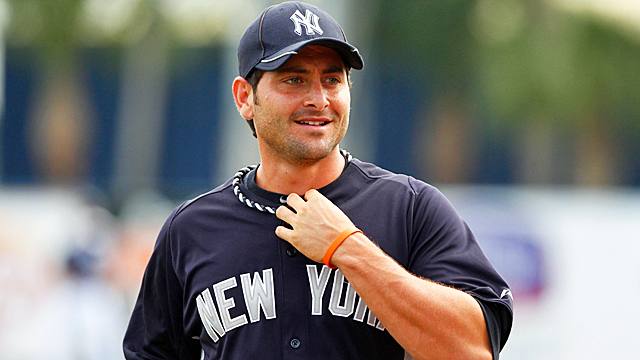 Cervelli doesn't have an answer for why the Yankees demoted him to the minors.
(U.S. Presswire)
Francisco Cervelli survived three concussions and a broken wrist to serve as a solid or better backup catcher for the Yankees, to play three straight seasons in the majors and win one World Series ring. Now he is surviving a broken heart.
On the eve of the big-league season, with mere hours to go before going north with the Yankees once again, and with no reason to think there was any chance of his Yankees uniform being pulled off his back, it was.
With no possible thought about being sent to Scranton or Rochester or wherever it was the Yankees' Triple-A team was playing now (their home stadium in Scranton-Wilkes Barre is being repaired so the team shuttles between Rochester, Syracuse and other points north for home games), Cervelli suffered the ultimate baseball blow when he was told that his big-league spot was going to Chris Stewart, another career backup with far lesser numbers (Stewart's a career .208 hitter) who had just been picked up on waivers from San Francisco.
Before he was told he needed to go the minors, Cervelli's "stuff'' (i.e. his apartment, car and clothes) were awaiting him in New York. But now that very car basically serves as his closet since he's constantly on the move. His lights on broadway have been replaced by headlights on routes between the teams of the International League's North Division.
"It's not a bad car, but if you look close at the windows, it's filled up,'' Cervelli said. "I hope nobody breaks in.''
Considering what's befallen him, that would be almost too much to take. Cervelli is a .272 career hitter in the majors with no hint he was anything other than a backup in good standing. He is known for his energy and outward displays of emotion, but his animated gestures of glee had only annoyed opponents, as far as he knew.
He had done nothing wrong. He felt that was true, but he had to keep telling himself that.
"There was a lot of frustration the whole month of April,'' Cervelli said. "I couldn't concentrate. I kept thinking, 'What happened? What happened? What happened?'''
What occurred was a one-in-thousand stroke of bad luck that buried Cervelli a level below where he belongs. Cervelli made clear he doesn't blame the Yankees. It was a business decision, nothing personal. Or so he thinks.
He thought too much at first. Cervelli hit .213 in April when he was searching for answers. But he's batted a more characteristic .284 since then, as his head has begun to clear.
It's better now. But then sometimes he thinks about it, and he isn't sure.
"I don't have the answer,'' Cervelli said. "Everytime I think about it, I'm a little confused.''
Perhaps the hardest part to understand came when the Yankees explained that they weren't giving Cervelli's job away because he had done anything wrong or they liked Stewart's game better. No, the whole demotion came down to the fact Cervelli had an option left and Stewart didn't. In fact, the Yankees made clear that if something should happen to Martin, Cervelli -- not Stewart -- would be the likely starter.
So in effect Cervelli was insurance for the Yankees, human insurance. With Austin Romine out with a back injury, Cervelli gives them a third viable catching option.
He's surely plenty good enough to be in the majors as a backup. Nothing's changed between his 25th and 26th birthdays, he knows that. He's good to be the back up for the Yankees (except for the option situation). And for many other teams -- the Rays, Marlins, Astros, Indians, Brewers, Mets and Angels, just to name a few.
Since Cervelli might be the only player in the majors serving as human insurance, his folks Damelis and Manuel recently came up from Venezuela to accompany him on a three-week nomadic trip to away games and home games (which are really just more away games), and to remind him not to get down at age 26, even if he was down. Cervelli said his parents were there to reinforce his love for the game, even if wasn't treating him so kindly lately.
"A lot of players, they don't have any job. I feel blessed to have a job. Unfortunately, it's at Triple-A,'' Cervelli said. "I think I can play in the big leagues. I'm doing everything I can to show people who don't believe I can play there that they are wrong.''
Cervelli said he has no hard feelings against the Yankees, so he gets it that he was just caught in a bad circumstance. Unfortunately, barring injury to either starter Russell Martin or Stewart, he may be stuck for awhile. Stewart is hitting a respectable .245 and has become CC Sabathia's personal catcher (even if the Yankees don't call it that).
Cervelli had nothing bad to say about the Yankees. But he made it clear he's playing to show someone -- anyone -- that he is still worthy of being a big leaguer.
"They always know what they are doing,'' Cervelli said of the Yankees. "Sometimes we don't understand. I am going to make them understand I can play in the big leagues.''
When I asked how he would react to a trade to a team with a major-league job for him, Cervelli said, "I want to play in the big leaguers, bro.''
He should be playing in the big leagues. Nobody should have to serve as human insurance.