Appel, Pirates agreement unlikely by deadline; only hope may be intervention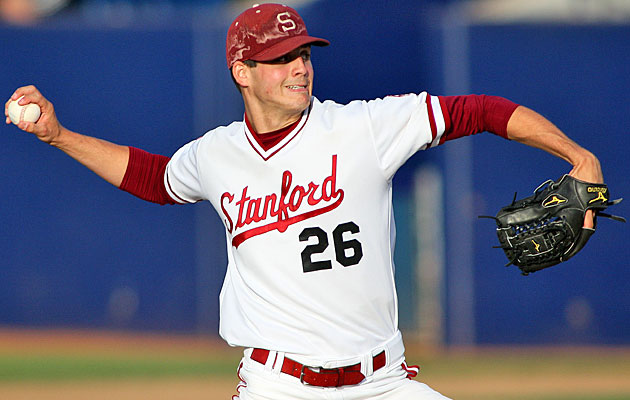 Mark Appel appears willing to return to Stanford rather than accept the Pirates' $3.8M offer. (US Presswire)
Mark Appel, the Pirates' No. 1 pick and the player some believed was the top pitcher in the draft, remains highly unlikely to agree to Pittsburgh's $3.8 million offer as Friday's 5 p.m. ET deadline approaches.
There is nothing to indicate Appel is about to change his mind, and the Pirates are believed very unlikely to raise their offer because it would mean the loss of a coveted 2013 draft choice, so the somewhat slim hope for a deal may rest on some sort of intervention by MLB higher-ups, or the ability to prove a flaw in the rules or how they were followed by other teams. There is no accusation or thought the Pirates did anything wrong.
Appel, the right-hander who surprisingly fell to the eight overall pick in the draft, would return to Stanford in the fall to complete his degree if nothing can be worked out. The Stanford ace went 10-2 with a 2.56 ERA in his junior season and had been expected to go frst in the draft.
The Pirates have spent more than just about any other team on drafted players the past couple years, but under the new system their total allotment to spend on draft choices was only $6.5 million. Since they spent $2.7 million on all their other picks, they are left with $3.8 million for Appel, assuming they aren't willing to surrender a '13 pick.
The new system, designed to curtail wasted spending on draft choices, was orginally met with disdain by some agents who believed the best players may be needlessly hurt, and while MLB officials have seem pleased by the new rules and their effects, they have said they want to wait until the July 13 deadline before making final judgment. One MLB official said he has sensed some "grumbling" from the union side over the Appel case.
Appel issued a statement upon his selection by the Pirates that was noncommittal at best over the surprise late pick by Pittsburgh. His adviser, Scott Boras, declined comment Thursday, and union senior adviser Rick Shapiro said the union would be assessing the draft and how the rules worked, and that the union would withhold comment until at least after the deadline.
Five first-round picks remain officially unsigned, though the other three appear to be closing in on deals. According to sources, the Orioles' No. 1 pick, Kevin Gausman, the LSU right-hander, was said to be likely to have a deal, probably for slightly more than $4 million. Third baseman Richie Shaffer was said to be close to a deal with the Rays, sources told Marc Topkin of the Tampa Bay Times.
Also unsigned is right-hander Lucas Giolito, the 16th overall pick by the Nationals out of Harvard-Westlake (Calif.) High School.