With Cain in mind, Phillies expected to offer Hamels about $130M for 6 years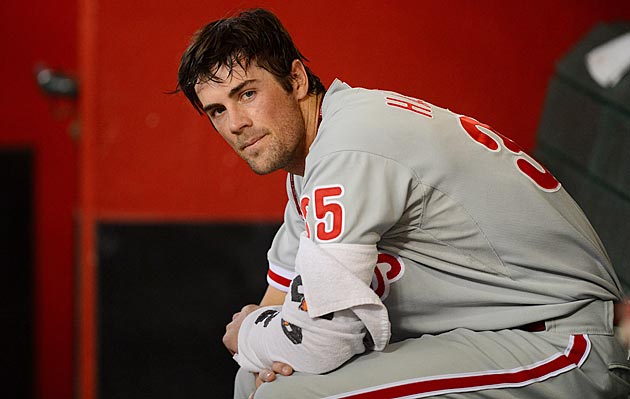 Sources says the Phillies are willing to give Cole Hamels a deal better than the one Matt Cain got. (US Presswire)

The Phillies are sending signals that they are planning to make an initial offer to star lefthanded pitcher Cole Hamels for about $130 million over six years within the next few days, sources familiar with the team's thinking told CBSSports.com.
The Phillies are believed to have had some conversations in recent days with Hamels, and while no official offer has been made yet, sources say the team is interested in doing a deal in the range of Matt Cain's six-year arrangement with the Giants.
Cain signed a $112.5-million, five-year extension this spring on top of his $15 million 2012 salary, meaning the Giants had $127.5 million in commitments to him. With that in mind, Hamels' first offer from the Phillies might be for exactly $127.5 million. Or it could be for a bit more if they feel adjustments are needed based on their initial, unofficial talks with Hamels in the past couple of days. The figure is unlikely to be less.
The Phillies are said to be very committed to trying to bring back Hamels, and it's quite possible $127.5 million or thereabouts may only be an opening plan. The numbers may well go up from there.
Hamels is the Phillies' entire focus at the moments. Trade talk has been put off while they try to lock him up.
The Phillies want to have a resolution to the Hamels situation within a week or so because if they can't extend Hamels they will want to have the option to trade him by the July 31 trade deadline. The Rangers, Angels, Dodgers and many other teams will be interested if he's available in trade.
Phillies GM Ruben Amaro declined comment on their contract plans involving Hamels.
It isn't known how Hamels will react to a deal similar to Cain's. Hamels was thought to be seeking a deal at least in the range of Johan Santana's $137.5-million, six-year Mets deal or C.C. Sabathia's $161 million, seven-year deal.
Amaro has had a knack for signing the homegrown stars of the Phillies, such as Ryan Howard, Jimmy Rollins and Chase Utley (though Amaro was Pat Gillick's assistant GM when that deal was done). However, this isn't necessarily going to be an easy one, as Hamels is due to be a free agent after this season.
It isn't known whether Hamels might have any negative reaction to the fairly long wait for this offer, which is expected to come any day now, or how much the Phillies' recent struggles might play into his decision. Hamels is nothing if not unpredictable; he surprised folks by declining to sign a deal as a second-year player, and also by accepting a three-year, $20-million deal four years ago.
The Phillies suggested about $80 million for five years late last year, basing that offer on Jered Weaver's $85 million, five-year Angels deal. But this is the first serious contract discussion since then.
Hamels clearly likes Philadelphia (he lives there year-round) but he hails from Southern California, and there have been strong whispers the Dodgers, with their new rich owners, intend to make a strong push for him after the year.
Very few stars this close to free agency sign with their orginal team, and Hamels could believe he's worth more than Cain because he's lefthanded and has a higher winning percentage (.594 to Cain's .510). Hamels, like Cain, has a reputation as a bulldog, and being successful in Philadelphia over a multi-year span fuels that rep. He's also done it in a hitters' park.
CBSSports.com originally reported a few days ago that Philly's bid would be for at least $120 million.