Youkilis, Scutaro, Ichiro top list of best 15 moves of 2012's trading season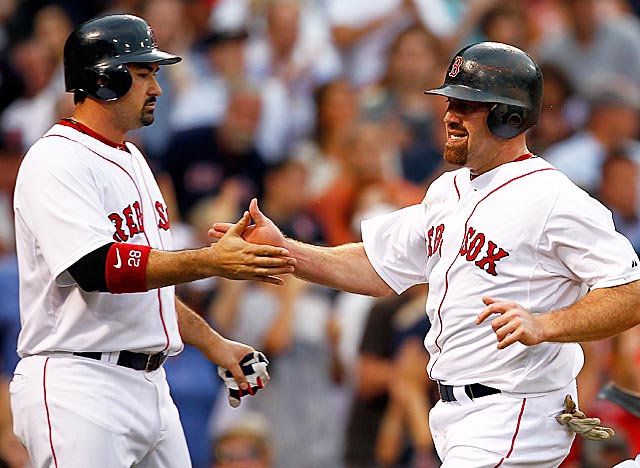 Dealt at different times, Gonzalez and Youkilis were both part of the Red Sox's house-cleaning. (Getty Images)
In an unusual trading season, many of the headline-grabbing moves of the trade deadline haven't exactly been game-changers.
At the same time, a lot of seemingly smaller deals have aided pennant chances.
In the end, the first big trade may have been the best.
Here goes, the 15 best moves of this year's trading season (with an emphasis on the buyers over the sellers).
1. Kevin Youkilis, White Sox
His batting average isn't much better, but as one White Sox person said, ";He's great for our team. He fits our clubhouse." His .232 batting average as part of the White Sox is actually a point lower than his last few months with Boston. But his .791 OPS is nearly 100 points higher (.692 in Boston this year), and he's pitched in with many big moments as the White Sox have maintained a one-game lead. The upgrade from Orlando Hudson, who isn't really a third baseman, has been stark. Better yet, the White Sox got the Red Sox to chip in more than $5.5 million and only gave up since-released utilityman Brent Lillibridge plus journeyman Zack Stewart (7.91 ERA for Boston). The South Siders also have gotten contributions from midseason pickups Brett Myers (3-3, 3.21), DeWayne Wise (.272, five homers) and Francisco Lirano (3-1, 5.09), making them the biggest winners so far. That's quite a feat since they have fewer prospects to trade than almost anyone.
2. Marco Scutaro, Giants
San Francisco beat out the crosstown rival A's, who made more great trades than anyone this winter, to land Scutaro, who has been a godsend. He is hitting .361 qith 38 RBI and an .843 OPS while playing solidly at third base and now second base. With Melky Cabrera gone for the year (the Giants have no plans to activate him), it's a good thing they acquired Hunter Pence; though Pence got off to a slow start in San Francisco, he's a necessity.
3. Ichiro Suzuki, Yankees
Some folks around the league thought the Yankees were crazy to take a diminishing Ichiro. But not only has he fit in while switching from right field to left, he hasn't complained about batting in the bottom of the lineup (though he was switched to bat second Monday). He's hitting .328 with an .831 OPS and has 12 stolen bases, only one off the Yankees lead. It was also the right move for Seattle, which has played about .500 ball since the overbearing presence of Ichiro was lifted.
More on 2012 deals
Related links
4. $260 million in savings, Red Sox
They were able to rid themselves of overpaid Josh Beckett and incredibly overpaid Carl Crawford, and while Adrian Gonzalez is worth his deal, he wasn't loving his time in Boston and was ready to leave. Additionally, they added a couple decent pitching prospects (Rubby De la Rosa and Allen Webster). The issue will be where to spend all the savings. The free-agent list isn't exactly overwhelming. Said one competing GM, "They may not win for a couple years." We think it'll be sooner.
5. Zack Greinke, Angels
After a slow start, Greinke is pitching almost exactly to his career form, which is pretty darned good. He's 5-2 with a 3.51 ERA and 1.16 WHIP (actually below his career norm). While the Angels are still two games out for second spot in the wild-card race, think of where they'd be without him. The Brewers can't have regrets, as rookie shortstop Jean Segura has been impressive, and the trade of Greinke seemed to jolt the team, which played itself into contention.
6. Ernesto Frieri, Angels
He was near perfect the first several weeks in Anaheim, and while he's not quite as good lately and 3-2 with a 2.55 ERA and 20 saves in 23 chances overall, where would they be without him? The Padres like Alexi Amarista.
7. Ryan Dempster, Rangers
He wasn't Texas' first choice, or even its fourth. But with the deadline approaching and his dream to go to the Dodgers fading, the Rangers and Dempster took a chance on each other. There were a few bad starts and that mishap where he couldn't find his passport and couldn't make the trip to Toronto, but overall he's 7-2. While he hasn't pitched great (4.48 ERA overall), he's benefited from the Rangers' terrific offense. Which is about the opposite of how it went for him in Chicago. Speaking of the Cubs, Geovany Soto has filled in ably, knocking in 24 runs and playing solid defense behind the plate.
8. Edward Mujica, Cardinals
St. Louis specializes in under-the-radar moves, and this is another one that's worked. Mujica has pitched in 26 games since his deadline-day trade (including 13 already in September), and has a 0.88 WHIP. He has eight holds this month alone.
9. Nate McLouth, Orioles
Baltimore is getting contributions from surprising places, and McLouth became a necessity after Nick Markakis broke his thumb. After rough years in Atlanta and Pittsburgh, McLouth seems to be back, with a .275 batting average, .786 OPS and 10 steals in 11 tries. Lew Ford is another surprise helper while Jim Thome, Joe Saunders and Randy Wolf bring added veteran presence to the most shocking story in baseball (tied with the A's). The callup of kid infielder Manny Machado may be their best decision, as he's stabilized a position that was killing them earlier.
10. Chris Johnson, Diamondbacks
When the Astros traded this young third baseman, it sent a signal about just how deep their rebuilding plan is. Through no fault of his, the D-Backs haven't been able to make a sustained playoff charge. But they should be happy to have him, as he's gotten back to his 2010 form and fills a tough position. He has seven homers, 34 RBI., a .533 slugging percentage and .864 OPS.
11. Jonathan Broxton, Reds
He's turned in 13 straight scoreless innings since his second blown save in Cincinnati, and with Aroldis Chapman back, gives Cincinnati one of the stronger bullpens around. Has a 0.95 WHIP in Cincy.
12. Hanley Ramirez, Dodgers
The Marlins couldn't believe their good fortune when L.A. took the whole Ramirez contract, but he's been the Dodgers' best run producer, with 42 RBI while playing solid at shortstop. The Dodgers' vast talent hasn't yet gelled, however, and they remain a few games out of the wild-card race. A rival GM quipped, "They are a Fortune 500 team. They spent a fortune to play .500." The call here, though, is they will be much better next year. Brandon League looked like mostly a way to set up the Shane Victorino trade, but with Kenley Jansen suffering from a heart ailment, League has closed solidly, allowing just 14 hits in 23½ innings and whiffing 24. A-Gon certainly gives them a chance at the wild card, though time's running short.
13. Travis Blackley, A's
Nice waiver-wire pickup by GM Billy Beane, who filled in gaps for all the A's pitching injuries and has five important wins.
14. Paul Maholm, Braves
He's done his usual solid job, going 3-4 with a 4.09 ERA, and Ben Sheets helped too, with some nice starts after coming back from a year away. Reed Johnson, who was part of the Maholm deal (with cash), is batting a characteristic .291. Though the Braves' best decision was obviously moving Kris Medlen to the rotation and keeping him there.
15. Phillies sale
They managed to trade Pence (.672 OPS in San Francisco), Victorino (.601 in L.A.) and Joe Blanton (1-4, 5.57, also in L.A.) without it hurting them. In fact, the Phillies went on a decent second-half run. They also got well-regarded catching prospect Tommy Joseph in the Pence trade.