Farrell may or may not be the next Francona, but at least Boston got its man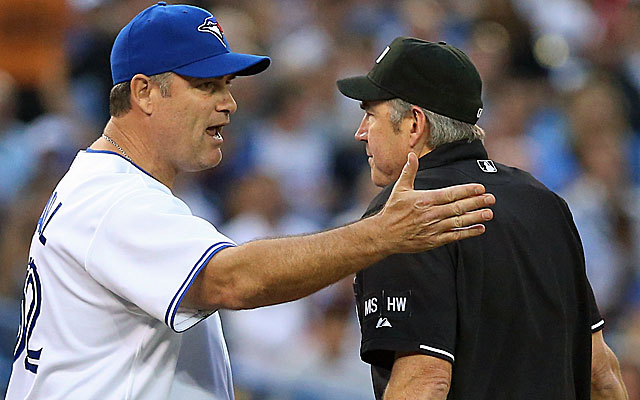 If John Farrell is the manager they think he is, this will be Boston's best trade of the year. (US Presswire)
The Boston Red Sox got their man, John Farrell, sources confirm, and right up front they need to be credited for moving decisively and quickly to hire the manager they wanted all along.
There was no dragged-out process, no wasted time, no controversy or pushback.
As Red Sox GM Ben Cherington said just before the season ended, they desired to hit the ground running. And of course they didn't want to repeat the many-week managerial search of a year ago.
As a bonus, there isn't much sacrifice, either, on Boston's part as solid journeyman infielder Mike Aviles is the compensation for Farrell, a source confirmed. Aviles is a nice extra player, but that's it. So the Red Sox made a hard bargain.
Last winter, the Jays supposedly wanted Clay Buchholz back for Farrell. This year, they accepted Aviles.That's like asking for the moon, and accepting a moon pie.
Aviles had a pretty terrible .281 on base percentage this season with Boston. (For the record, Farrell's in percentage was .451.)
Really, it isn't such a major surprise that the compensation was low since word had gotten out that Farrell was on the outs with the Blue Jays front office. Toronto people may deny that (of course they also said they wouldn't let anyone leave for a lateral move), but Farrell had only a year to go on his Toronto contract, and there was no real interest known to be shown to extend that deal by Jays people.
As one person with ties to Toronto said, "The people there would charter a plane to get him out.''
Even if that was said more colorfully than necessary, Red Sox management surely knew he wasn't currently beloved by his bosses, which explains why they were able to obtain their first choice from a division rival for next to nothing.
If Farrell is the manager they think he is, this will be Boston's best trade of the year. But others outside the organization wonder.
Farrell is clearly the guy Cherington and the front office wanted all along, and he's a smart man with a Boston background the ownership triumvirate of John Henry, Tom Werner and Larry Lucchino can all agree on. They may have been impressed by one or more of the four men they interviewed -- Brad Ausmus, DeMarlo Hale, Tony Pena and Tim Wallach -- but they all knew from the start Farrell was the first choice.
Hiring a manager for the Red Sox is almost as hard as managing the Red Sox. The job requires more of its holder than just about any other in baseball. The manager in Boston has to deal with one of the more involved ownership groups, many voices in the hierarchy, one smarter than the next, plus the most rabid fans and most persistent media.
It'd be a real gamble to try to pick the next Mike Matheny or Robin Ventura, to think a neophyte without any experience managing at the major-league level, or possibly any level, could do the job successfully.
Easy for me to sit here and second guess, but I might have taken a chance on Ausmus, Hale, Wallach or Sandy Alomar Jr. instead. Or, if experience is a necessity, Larry Bowa, Jim Riggleman or Pena wouldn't be bad choices.
Instead, they got the guy who finished four games better than Boston last year, a guy who was seemingly on the outs in his current job.
Farrell did a few funky things last year, like having his No. 3 hitter Brett Lawrie bunt in the fourth inning of a game against the Red Sox. If he's Boston's manager, he'd have to answer for that.
Farrell's Blue Jays team went 73-89, and much of that is attributable to injuries, just as Boston's 69-93 record is largely explainable by all their injuries. Farrell was a pitching magician in Boston , but Jays ace Ricky Romero regressed to the point he was the worst pitcher in the American League this season. Maybe that's not Farrell's fault. Whatever, it wasn't a good year in Toronto.
Farrell is recalled for his excellent work with Boston's young pitchers, such asBuchholz and Jon Lester, and for his leadership skills and toughness. The whole Boston front office loved him and considered it a major loss when he went to Toronto.
Who knows, maybe he'll do better now that he's back with Boston? But for now, anyway, the Red Sox get credit for a seamless, painless search and trade.