Youkilis talks gain intensity, Red Sox deal could happen soon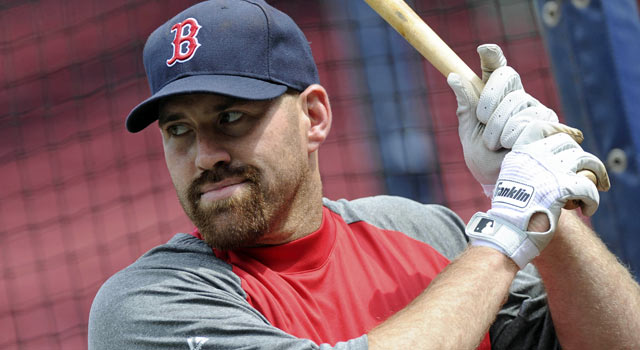 Kevin Youkilis, long a fan favorite at Fenway, could be heading out of town.
(Getty Images)
Kevin Youkilis this weekend appears on deck to leave Boston.

Question is, will it be a simple change of socks -- from Red Sox to White Sox -- or something a little more sartorially elaborate?

Talks between the Red Sox and multiple clubs are down the tracks, according to sources, far enough along that Youkilis could be on the move as soon as today ... or by the end of the weekend, at least. They conversations are described as "intense."

Though one source with knowledge of the talks said a handful of clubs are talking with Boston. The White Sox talks appear to have gained momentum, with sources on Saturday thinking Chicago is the leading candidate to acquire him. The Los Angeles Dodgers and Cleveland Indians are among those pushing hard, too, sources said, with the Pirates also interested.

In any scenario, the Red Sox will wind up paying a significant portion (read: almost all of) the $12 million remaining on Youkilis' contract, plus the $1 million buyout of his option.

The urgency to deal Youkilis has increased in recent days as an inconsistent Red Sox club seeks to gain traction in the AL East race. Adrian Gonzalez has moved between first base and right field in recent days, and Youkilis has moved between first and third base. Part of the thinking behind a Youkilis deal is that a more set lineup in Boston will allow the Red Sox, tied for fourth with the Blue Jays in the AL East, to gain momentum.
Plus, the emergence of Will Middlebooks, who is hitting .319 with eight homers and 31 RBI in 39 games -- all at third base -- has made the one-time Sox cornerstone player, whose skills have slowed considerably this season, expendable.
Youkilis, 33, is hitting .225 with four home runs and 13 RBI in 41 games for the Red Sox, with a .311 on-base percentage and a .359 slugging percentage. Manager Bobby Valentine told him Friday to expect less playing time.
Middlebrooks played third base for a second consecutive day on Friday, the first time Youkilis has sat two in a row since returning from the disabled list on May 22.