Hall of Fame now 2 for 2 in Sandoval bats that beat Verlander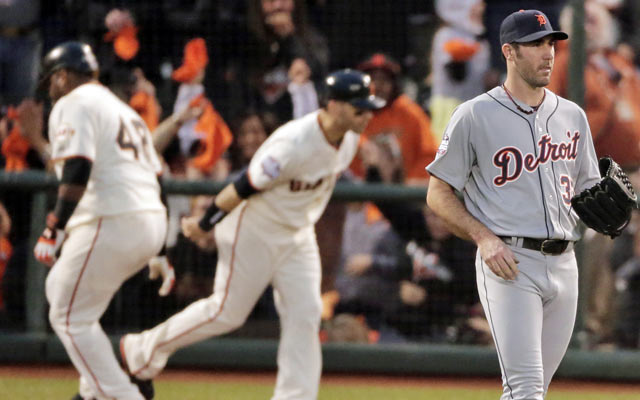 No one's supposed to hit Justin Verlander like Pablo Sandoval has done.
(AP)
SAN FRANCISCO -- It took two bats for Pablo Sandoval to hit three home runs in Game 1 of the World Series.

And the first of them is in the hands of a Hall of Fame representative.

Now, here's the crazy part:

Two Sandoval bats soon will be displayed in Cooperstown, and both of them were used to put a severe hurt on Detroit's Justin Verlander, the reigning American League MVP and Cy Young.
More Tigers-Giants coverage
More World Series Coverage

Sandoval bashed a bases-loaded first-inning triple against Verlander in this summer's All-Star Game. That bat went to Cooperstown as a memento from that game.

Now, this.

Sandoval used one bat to hit homers against Verlander in the first and third innings in the Giants' 8-3 rout of the Tigers, but that bat broke at the handle during his fifth-inning plate appearance.

So Kung Fu Panda grabbed another bat to smash his third homer, and that allowed Hall of Fame representative Brad Horn to claim the first bat, which Sandoval autographed.

You didn't think Sandoval would give up his current bat, did you?

"It gives us a way to commemorate the three-homer game," said Horn, the Hall's senior director of communications, of claiming the first bat.

Horn will be in attendance, as usual, at the rest of the World Series, watching in case history touches another of these games.

And in the event the bat Sandoval used to blast his third homer in Game 1 becomes a hero in Game 2, who knows? Maybe Horn will be able to claim that, too.

So far, though, two bats, both used to beat Verlander.

"A pretty unique occurrence," Horn said.