The tale of Torii the Tiger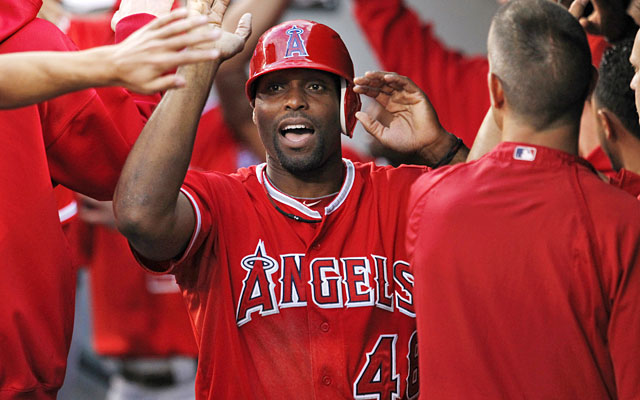 Torii Hunter carried the Angels down the stretch in 2012, but it wasn't enough to get them into the playoffs. (AP)
It's the perfect hookup: Torii Hunter, a man on a mission to win a World Series ring before his time in the game is up, with Tigers owner Mike Ilitch, a man on a mission to win a World Series trophy before his time in the game expires.
With Hunter at 37 and Ilitch at 83, time's a-wastin'.
Which is why neither side is in the mood to waste any more of it this winter.
And which is why, if they can pull this one off together, the incredibly entertaining story of how Hunter came to be a Detroit Tiger will be told and retold for generations in Michigan.
So while we wait for his two-year, $26 million deal to become official pending a physical exam, here's the tale of Torii the Tiger based on conversations colleague Danny Knobler and I conducted with multiple sources:
The Tigers had summoned their key baseball personnel to Detroit on Monday for what was supposed to have been two days of planning meetings when Hunter phoned general manager Dave Dombrowski and invited himself to town.
Yes. In his own mind, even without any offers yet on his table, Hunter had made his decision.
The Tigers' key executives, major-league scouts and manager Jim Leyland all were in Detroit because Monday and Tuesday just happened to be about the only days they could all convene. The World Series had taken them through late October, the GM meetings were a week later in California, Dombrowski was headed for the owners' meetings this week in Chicago … yep, Monday and Tuesday was what was available. And they were stacked with organizational meetings.
Ring!
Now, about Tuesday's schedule. ...
"There's been a change in plans," Dombrowski told his staff, informing everyone that Hunter and his wife, Katrina, would be arriving the next day for a hastily scheduled visit.
So the Hunters arrive in Detroit on Tuesday, word leaks, and now Larry Reynolds' cell phone starts blowing up with texts.
Reynolds is Hunter's agent. And, suddenly, he now has several clubs jockeying for position via text, wanting to make sure they get a chance to talk with Hunter before any decision is made.
What they don't know, and what Reynolds -- who also is in Detroit -- now must tell them is, forget it.
At warp speed and by his own command decision, Hunter was in an exclusive negotiating window with Detroit. Even before he and the Tigers began discussing terms.
Hunter had landed in Detroit around 10:30 a.m. Tuesday, arrived at Comerica Park, was warmly greeted, met everyone and he and Katrina eventually were ushered into the Tigers' clubhouse for lunch with Dombrowski, Leyland and all of the executives and scouts.
Hunter's meeting with Ilitch already is being described as a virtuoso performance. Nobody, ever, has impressed the Tigers' owner more than Hunter and his wife did when they sat down, sources said.
"This is my last stop," Hunter told Ilitch. "I'm planning on it being my last stop."
Later that afternoon, fully aware that only the White Sox's Paul Konerko had more at-bats against the Tigers than he did, Hunter at one point joked with his wife, "This is going to be great! This is the team whose ass I've tried to kick all of these years, and now I'm going to be playing for them next year!"
Talk about doing your homework. Even the Tigers weren't aware of the Konerko-Hunter stat.
Before leaving Detroit, offer now in hand, Hunter told Dombrowski that he would have an answer for the Tigers by mid-morning Wednesday. And, boom, he did.
Time was, when the Tigers were losing up to 119 games in the early 2000s, they had to overpay free agents like Ivan Rodriguez to lure them to what then was a baseball wasteland.
Now, coming off of their second World Series appearance in seven years, here comes Hunter, knocking on their door.
Much as he did when he left the Twins for the Angels following the 2007 season, Hunter took to the recruiting process, quickly finished his scouting and made a strong, rapid decision.
Then, Hunter signed with the Angels on the Wednesday night before Thanksgiving.
Now, he's the first significant free agent to sign this winter.
And he becomes a huge addition for a Tigers team whose motto under Ilitch is World Series or Bust.
The fit is perfect. Hunter's bat will help the Detroit lineup, he will upgrade their outfield defense (the Tigers have told him he will play right field) and his clubhouse presence will add maturity and leadership to a group that sometimes struggled in those areas in 2012 despite the presence of Prince Fielder and Miguel Cabrera.
He likely will hit second in the Tigers' lineup, right behind Austin Jackson and ahead of Cabrera, Fielder and Victor Martinez, who is expected to be back in 2013 following the knee surgery that sidelined him for all of 2012.
It should be both productive and comfortable for Hunter.
"I played in the AL Central half my career," he said when we spoke on Monday. "I know the Tigers. I know that in the AL Central you can still hit home runs.
"In the AL West, in Seattle and Oakland, you can't hit home runs."
At least, not so frequently.
Hunter hit .313 with 16 homers and 92 RBI in his final season for the Angels in 2012. Though his home run total was his lowest since 2005, his RBI total was his most since 2007.
In the month of September, it was Hunter, not Mike Trout or Albert Pujols, who was the Angels' MVP.
A nine-time Gold Glove winner and a four-time All-Star, Hunter has made his money, played in six postseasons and earned a well-deserved reputation as one of the game's greatest ambassadors.
What he's zeroed in on now is that one elusive goal: A World Series ring. You could almost see it, physically, as he willed the Angels down the stretch in September.
"All of the failures, all of the disappointments, all of the great things I've done," he told me then. "I think about all those things going all the way back to Minnesota, the things with the Angels. I try to boil them all down. And the individual things, the Silver Sluggers and the Gold Gloves. ... If you have a passion for the game, the reason you do is to win the World Series.
"That's what it comes down to, here in late September. Winning the World Series. All of those things are bottled up inside me."
In making his decision here in mid-November, that's what it's all about for Hunter, too.
And in Ilitch, who often says he would trade two of his four Stanley Cup titles as owner of the Red Wings for a Tigers World Series title, Hunter has found the perfect partner.
Giddyup.