Revisiting spring position battles: AL Central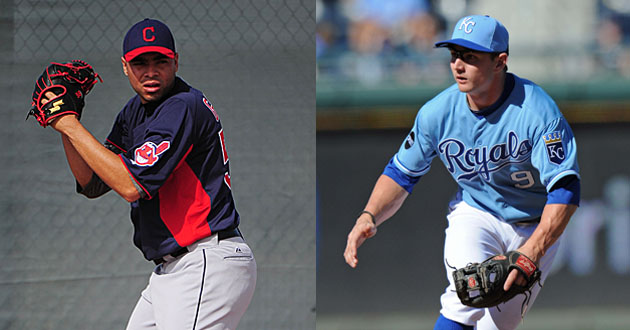 Back in early February, we took a look at some of the
hottest positional battles heading into spring training for the AL Central
. Now in the middle of March and the end of spring training a proverbial light at the end of the tunnel, let's take a look to see how these battles are progressing.

Chicago White Sox
Closer:
Matt Thornton vs. Jesse Crain vs. Addison Reed
Patience is going to be a virtue in Chicago this baseball season -- yes, on both sides of town -- and this specific case is no different. MLB.com's White Sox beat reporter specifically filed an article Tuesday with the headline,
"Closer decision to play out as spring progresses."
It's still a three-man race, but if you're looking for some clarity for your fantasy baseball drafts, you're out of luck.

Cleveland Indians
No. 5 starter:
Kevin Slowey vs. David Huff vs. Jeanmar Gomez vs. Zach McAllister
This competition will also be taking place the rest of the way and it's still between these four pitchers. Gomez, however, seems to be impressing the most at this point:
"Gomez is throwing the ball the best out of all those guys," said Indians manager Manny Acta Tuesday (
Cleveland.com
). "It's still very early, but he's not hurting his chances."
Gomez has thrown seven shutout innings, allowing just three hits and two walks. The rest of the small-sample stats from thus far (ERA, innings pitched): Slowey (3.60, 5), Huff (6.75, 8), McAllister (4.50, 6).

Detroit Tigers
Third base:
Miguel Cabrera vs. 3B
We grabbed
this one Tuesday morning in an individual post
. The quick summary: It seems to be working out OK, which helps the Tigers immensely.

Kansas City Royals
Second base:
Johnny Giavotella vs. Chris Getz vs. Yuniesky Betancourt
We've heard nothing concrete to this point. CBSSports.com's Scott Miller was in Royals camp this week and said
Giavotella "may have a leg up."
There are a few reasons for that. First of all, Giavotella, while young and inexperienced, certainly has the highest upside. Secondly, the 24-year-old is swinging the bat well this spring, hitting .304/.333/.435 with three doubles in 23 at-bats. If I had to wager on the outcome, I'd be sliding my chips toward Giavotella.

Minnesota Twins
Joe Mauer, Justin Morneau vs. Health
Mauer appears to be completely healthy. He had a two-hit game Tuesday, in fact. Morneau is a tougher read because it seems like lingering concussion symptoms never seem to fully go away for some guys. Tuesday, though,
the Star Tribune reported Morneau hasn't reported any concussion symptoms
so far this entire spring, which is huge news. The article also noted Mauer is "in much better shape than a year ago." For now, there might be reason for cautious optimism among Twins fans concerning these two stars.