Kendrys Morales plays in a minor-league game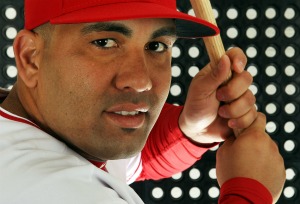 It was a minor-league game, but Friday was a major milestone for the Angels' Kendrys Morales, who played in his first game in nearly two years.
Morales went 2 for 5 against the Diamondbacks at Tempe Diablo Stadium's minor-league complex. He hadn't played in a game since breaking his left ankle in a celebration of a walk-off grand slam on May 29, 2010.
The switch hitter batted left-handed in all five plate appearances, singling twice and striking out, as well. He ran at full speed twice, he told reporters. He also had a pinch runner after both of his singles (you can do that sort of thing in minor-league exhibitions).
"It felt good. Today is the first day they let me out there," Morales told reporters through a translator (
via the Orange County Register
). "No pain. I just need to be more comfortable."
Morales had a baserunning workout before the game and was cleared to play in the minor-league game.