Spring primer: Oakland Athletics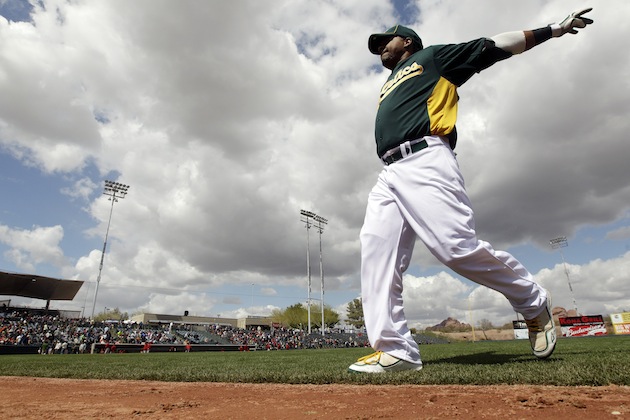 No team seemed to be more active this offseason than the A's, who traded away the top of their rotation and their closer, but brought in talented young arms, as well as an entirely new outfield with
Yoenis Cespedes
,
Josh Reddick
and
Seth Smith
. The A's may not be any better in 2012 than they were in 2011, but they'll at least be different.
Major additions:
OF Yoenis Cespedes, OF Josh Reddick, OF Seth Smith, LHP
Tommy Milone
, RHP Brad Peacock, RHP Jarrod Parker, DH
Manny Ramirez
Major departures:
LHP Gio Gonzalez, RHP Trevor Cahill, RHP Andrew Bailey
Probable lineup
1.
Jemile Weeks
2B
2.
Coco Crisp
LF
3. Josh Reddick RF
4. Seth Smith DH
5. Jared Allen 1B
6. Yoenis Cespedes CF
7.
Kurt Suzuki
C
8.
Adam Rosales
3B
9.
Cliff Pennington
SS
Probable rotation
1.
Brandon McCarthy
2.
Bartolo Colon
3. Tommy Milone
4.
Tyson Ross
5.
Graham Godfrey
Back-end bullpen
Closer:
Grant Balfour
Set-up: Fautino De Los Santos,
Brian Fuentes
,
Joey Devine
,
Jerry Blevins
Important bench players
DH Manny Ramirez, OF
Jonny Gomes
, 1B Kila Ka'aihue, 3B
Scott Sizemore
Prospect to watch
Jarrod Parker is the big name after coming over from the Diamondbacks in the Cahill deal, but the A's first-rounder from 2011, right-hander
Sonny Gray
, could make an appearance in the big leagues by the end of the season. The 5-foot-11 Gray was taken 18th overall in last year's draft out of Vanderbilt and signed in time to make five starts at Double-A Midland last season. He allowed just one earned run in those starts, good for a 0.45 ERA, striking out 18 and walking six in 20 innings, putting up a 1-0 record. While undersized by today's standards, Gray can still bring the heat, getting his fastball into the high 90s. He'll probably start the season back in Midland, but there will be plenty of eyes watching his progress.
Fantasy sleeper:
Scott Sizemore
"Granted, the hype on the former Tigers farmhand has dwindled to nothing over the last couple years, but it was still there at one point, fueled by a 2009 season in which he hit .308 with 17 homers and 21 steals in the minors. At age 27, Sizemore might have finally matured to the point that he can make good on it. And even if he doesn't perform at an All-Star level, he's such a certainty for at-bats in Oakland that a 20-homer season is within reach." --
Scott White [Full A's fantasy preview]
Fantasy bust:
Seth Smith
"Oakland's outfield, while lacking the high-end talent of a Carlos Gonzalez, is perhaps even more crowded than Colorado's, and with lefty killers Jonny Gomes and
Collin Cowgill
both in the mix, you can be pretty sure that Smith and his career .202 batting average against left-handers will remain safely confined to a platoon role. Worse yet, the 29-year-old is leaving Coors Field, and while you could argue he was nearly as effective on the road as at home last year, he wasn't playing those games at spacious Oakland Coliseum -- or in a lineup full of Triple-A rejects." --
Scott White [Full A's fantasy preview]
Optimistic outlook
Everything could work out -- and the new pitchers find success at spacious Oakland Coliseum, while the offense is able to put up enough runs to make things interesting -- and the team will still struggle to leapfrog either the Rangers or the Angels. Texas and Los Angeles seem to be evolving into the Boston and New York of the West, fighting for the playoff spots, while the A's can only hope to be the scrappy Rays and break up the party every couple of years. Even with that, it seems unlikely this is the year.
Pessimistic outlook
It wasn't so long ago that the A's pitching was a bright spot -- but with Gonzalez and Cahill gone, the team is relying on Colon as its No. 2 starter and it doesn't take the most vivid imagination to see where that could go wrong. The offense looks better on paper, but it's much easier to put up runs on paper than it is at the Coliseum. And that's just the worst that can happen on the field, if the A's don't get funding for a new stadium, they could be in for a long decade.