Astros trade Humberto Quintero, Jason Bourgeois to Royals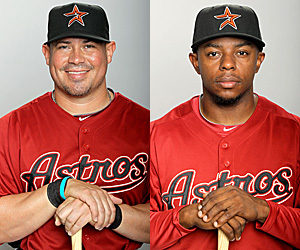 Catcher Humberto Quintero and outfielder Jason Bourgeois have been traded by the Astros to the Royals, the Royals announced Tuesday afternoon.
Earlier in the afternoon, both Quintero and Bourgeois were seen by reporters -- including CBSSports.com's Danny Knobler -- saying goodbye to their now-former teammates.
The Astros will receive a minor-league pitcher Kevin Chapman and a minor-league player to be named later.
The Royals had a need at catcher once highly-touted youngster Salvador Perez went down with a knee injury. He could miss the first two months of the 2012 season. Quintero will be competing with Brayan Pena now for time behind the plate.
Quintero, 32, hit .240/.258/.317 with 25 RBI and 22 runs last season in 272 plate appearances for the Astros.
Bourgeois, 30, will provide outfield depth for the Royals behind starters Jeff Francoeur, Lorenzo Cain and Alex Gordon. Bourgeois hit .294/.323/.357 with 31 stolen bases in just 252 plate appearances for the Astros last season, so it's pretty evident where he's most valuable.
Chapman, 24, is a 6-foot-4 left-hander who went 1-4 with a 4.94 ERA, 1.44 WHIP and 90 strikeouts in 62 minor-league innings last season, spread across High-A and Double-A.