Bobby Valentine upset about Joe Girardi's decision to end game in a tie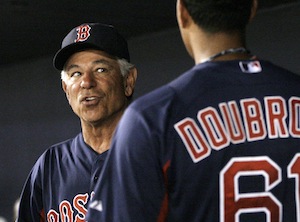 Red Sox manager Bobby Valentine was upset Thursday after Yankees manager Joe Girardi said he ran out of pitchers and the two teams' exhibition in Fort Myers ended in a 4-4 tie.
Valentine was upset because he had warmed up Clayton Mortensen to pitch the 10th inning.
"I didn't think that was very courteous," Valentine told reporters (
via the Boston Herald
). "I don't know. I haven't been around a long time. Joe knows better than I. I guess you just walk off the field. I'm sure he didn't do anything deliberate. It's just, I have to answer to a pitcher who's trying to make the team."
Although the Yankees used just five pitchers and had 12 pitchers listed on their travel roster, he said he wanted to conserve his pitching.
"We used a lot in the last few innings," Girardi said (
via the Herald
). "We've got a long day [Friday], too. We need pitching, and I don't want to run out."
Valentine said he believed the real issue was the two-plus hour drive back to Tampa after a night game in Fort Myers.
"They had plenty of pitching. Probably too long of a ride," Valentine said (again,
via the Herald
). "I don't care about not playing. It's just, why do I have to warm up my pitcher who's trying to make a team. Come in in a tie game against the Yankees and maybe help him make a team, and instead he has to walk off the mound and take a shower. That's just not very courteous. I don't set protocol. I'm learning."
Ties are far from uncommon during spring training -- many managers prefer to just end a game in a tie instead of wasting pitching.
For more baseball news, rumors and analysis, follow @EyeOnBaseball on Twitter, subscribe to the RSS feed and "like" us on Facebook.