Rays name Jeff Niemann fifth starter; Wade Davis heads to bullpen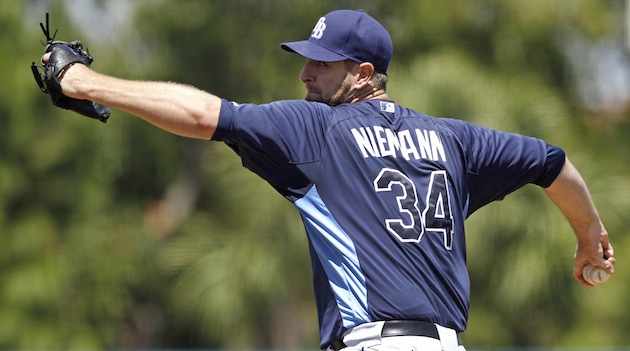 Tuesday morning Rays manager Joe Maddon announced the decision that most managers in the game would love to make -- which five of his six qualified starters would make up his rotation.
The Rays' rotation will be made up of -- not necessarily in this order -- James Shields, David Price, Jeremy Hellickson, Matt Moore and Jeff Niemann, with Wade Davis going to the bullpen. Davis, 26, is 25-22 with a 4.22 ERA over 64 starts the last three seasons. He has never appeared in a big-league game as a reliever.
Niemann, 29, has a career mark of 38-23 with a 4.16 ERA in 89 games and 84 starts over the last four seasons. He was 11-7 with a 4.06 ERA in 23 starts last season.
This spring Niemann has a 4.05 ERA in 13 1/3 innings, striking out 11 and walking three, while Davis has a 4.91 ERA in 18 1/3 innings and 13 strikeouts and seven walks. Those numbers, though, were not a deciding factor between the two right-handers, Maddon told reporters.
"It was not based on any kind of spring training performance," Maddon said (via the Tampa Tribune). "The point I want to make is this isn't your typical other-guy-in-the-rotation kind of battle, because we have such faith in both of these guys. Most organziations may go into this moment searching and somebody has to earn the other spot in the rotation, but with these two guys, coming down to the last two, it's unusual to have that kind of quality in the decision-making, so that made it more difficult."
Maddon also said he liked being able to use Davis as a "high velocity" reliever and could use him early in games for multiple innings.