Mets' R.A. Dickey says he was abused as a child in new book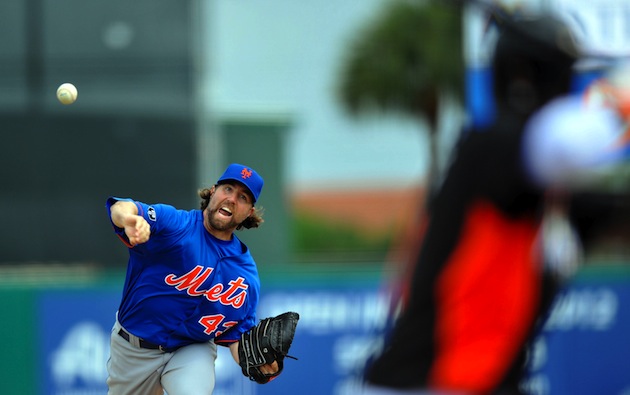 In his upcoming book, Mets pitcher
R.A. Dickey
reveals he was sexually abused as a child, contemplated suicide and also wrote about an experience with the Rangers where he saw a used syringe in the clubhouse bathroom.
Sports Illustrated has an excerpt of Dickey's new book
, "Wherever I Wind Up: My Quest for Truth, Authenticity and the Perfect Knuckleball", written with
New York Daily News
writer Wayne Coffey.
Dickey, 37, said he was abused by a babysitter when he was 8 and didn't tell anyone about it until he was 31. He also wrote that he considered suicide following the 2005 season in the wake of an affair.
"I hope that on some level that people will respect my honesty, and I would like to believe they will," Dickey told the New York Daily News' Andy Martino.
As for the syringe incident, Dickey said it took place when he was 26 and in his first year in the big leagues, with the Rangers in 2001. Ken Caminiti, Rafael Palmeiro and Alex Rodriguez, among other suspected and admitted steroid users, were on that team.
The book will be released on Thursday. I've read a lot of baseball biographies/memoirs, but there are few I'm looking forward to more than this one, in part because I'm fascinated by the knuckleball and those who throw it, as well as Dickey's honesty.