Giants sign Matt Cain to 5-year, $112.5 million contract extension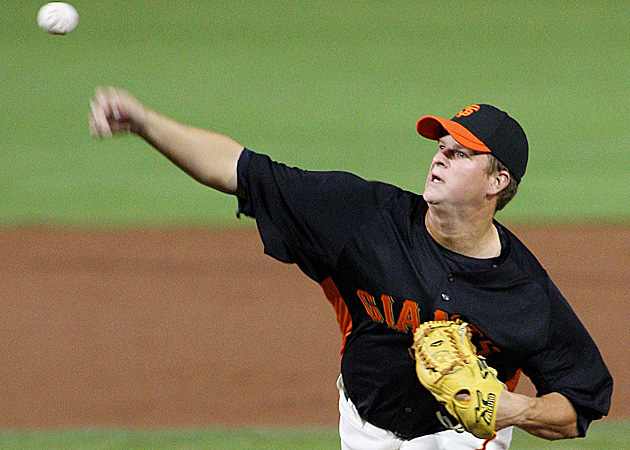 The
Giants
and
Matt Cain
have been discussing a long-term contract extension throughout the spring, and they've finally reached common ground. The Giants announced Monday that they reached a five-year contract extension with the right-handed starting pitcher. The deal is for $112.5 million.
"Ensuring that Matt remained a Giant beyond this season was a top priority for the organization. Matt is an integral part of the team whose performance on the mound will be one of the keys to our success for years to come", said Giants general manager Brian Sabean in a statement.
Cain was set to make $15 million in 2012 before hitting free agency, so his contract moving forward is six years and $127.5 million. There's also a vesting player option for $21 million for the 2018 season, which Cain can activate by being a "healthy, full-time starter" in 2017. If he doesn't get to that standard, the option becomes a club option.
Using the $127.5 million moving forward, Cain has the highest-ever contract for a right-handed pitcher. Only CC Sabathia and Johan Santana -- both of whom are left-handed -- have ever had more guaranteed dollars on a deal. But the Giants believe Cain is worth it.
"The success of our franchise depends on developing and retaining homegrown talent like Matt Cain," said president and CEO Larry Baer in a statement. "I want to commend Brian Sabean, Bobby Evans, Matt and his representatives for their hard work to keep Matt in the Orange and Black. This is an exciting day for Giants fans everywhere and a fantastic way to kick off the 2012 season."
Cain, 27, was 12-11 with a 2.88 ERA, 1.08 WHIP and 179 strikeouts in 221 2/3 innings. The two-time All-Star is the very definition of a workhorse starting pitcher, as he's thrown at least 217 2/3 innings the past four seasons, making at least 33 starts in each of those.
While his career win-loss record (69-73) is unimpressive, it's also misleading, as Cain has had incredibly poor luck in terms of run support. In fact, Cain has the lowest run support in MLB over the past five seasons (minimum of 500 innings pitched) with just 3.7 runs per nine innings. Only John Lannan (3.98) is also below four runs in support among active, qualifying pitchers.
There are now 11 players with more than $125 million guaranteed from this point forward in Major League Baseball: Cain, Albert Pujols, Prince Fielder, Joe Mauer, Matt Kemp, Troy Tulowitzki, Adrian Gonzalez, Alex Rodriguez, Ryan Braun, Ryan Howard and Ryan Zimmerman.
For more baseball news, rumors and analysis, follow @EyeOnBaseball on Twitter, subscribe to the RSS feed and "like" us on Facebook.