Red Sox name Alfredo Aceves closer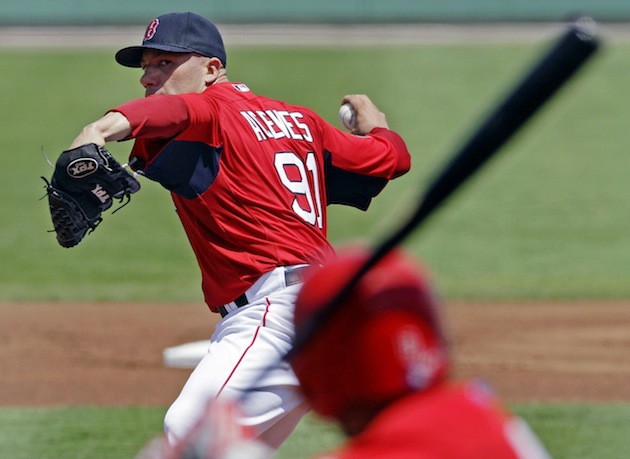 With
Andrew Bailey
undergoing thumb surgery today, the Red Sox have named
Alfredo Aceves
the team's closer, with
Mark Melancon
as the main set-up man.
"Just from what I've seen this spring and [Aceves] is a little more familiar with the American League," Red Sox manager Bobby Valentine told reporters (via the Boston Globe). "He was in the plans while he was starting."
Aceves started the spring in competition for the Boston rotation, but was edged out by Felix Doubront and Daniel Bard. Because of his ability to throw multiple innings, Valentine said Wednesday that he'd consider using the right-hander for two-inning saves.
Melancon will close on days that Aceves is not available.
Bailey could miss as much as four-to-six months, according to a Boston Herald report on Tuesday.
The team will start the season with 13 pitchers, adding Vicente Padilla, Scott Atchison and Justin Thomas to the 40-man roster on Wednesday.
Aceves, 29, appeared in 55 games last season with four starts, going 10-2 with a 2.61 ERA. He had two saves, striking out 80 in 114 innings.
Melancon, acquired from the Astros in an offseason trade, had 20 saves with Houston in 2011, going 8-4 with a 2.78 ERA overall. The 27-year-old right-hander struck out 66 in 74 1/3 innings.