The Lineup: Carlos Pena the hero in his return to Rays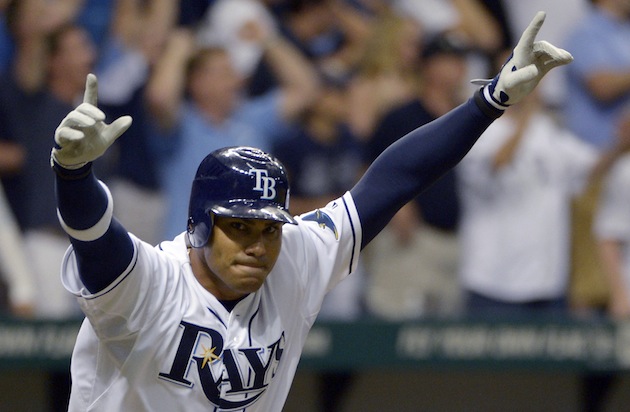 The fourth and final opening day of 2012 is in the books and it's obviously different than what we've seen before --
Albert Pujols
is an Angel, the
Yankees
are winless and
Yoenis Cespedes
is your home run leader...
3 UPCarlos Pena, Rays.
How about that for a return to the Rays? Carlos Pena hit a grand slam in the first inning and then finished off a victory over
Mariano Rivera
with a bases-loaded single in the ninth inning. Pena had been 0 for 11 in his career against Rivera before facing the game's all-time saves leader with bases loaded and one out. He drove a ball deep that the Yankees let fall in for a hit as
Ben Zobrist
scored the winning run.
Adam Dunn, White Sox.
They say opening day is even more special in
Cincinnati
-- well, maybe the first day of the season has special meaning for Reds and ex-Reds alike. Dunn hit his eight opening-day homer, tying his friend and former teammate
Ken Griffey
Jr., as well as Frank Robinson. Before you get too excited marking Dunn off your Comeback Player of the Year prediction bingo, note he hit one in the White Sox's first game of 2011, as well.
Cardinals offense.
Albert who? The defending champs don't seem to be missing Pujols so far, scoring 11 runs in
Milwaukee
on Friday and recording 29 hits over their first two games, both wins. David Fresse was 2 for 5 with three RBI, including his first homer of the season. Freese is hitting .500 through two games with five RBI.
3 DOWNMariano Rivera, Yankees.
The day after
Jose Valverde
and
Chris Perez
blew saves, Rivera made them feel just a tiny bit better about themselves, giving up a leadoff single to
Desmond Jennings
in the ninth inning, then allowing the tying run to score on Zobrist's triple.After two intentional walks, he struck out
Sean Rodriguez
before giving up Pena's game-winner.
Tim Lincecum, Giants.
In his last start of 2011, Lincecum allowed five runs in five innings in a loss at
Arizona
. He started 2012 where he left off last season, giving up five runs on six hits in 5 1/3 innings, despite striking out seven. He gave up home runs to Chirs Young and
Paul Goldschmidt
in the first inning of
San Francisco
's 5-4 loss to the Diamondbacks.
Astros defense.
The
Houston
franchise may be celebrating its 50th anniversary, but the Astros looked like an expansion squad in Friday's opener against the Rockies, committing four errors and notching their sixth consecutive opening-day loss. Houston's fourth and final error was its most costly, as catcher's
Jason Castro
's throw to second allowed
Eric Young
to score the go-ahead run in the eighth inning. Houston's
Wandy Rodriguez
helped and hurt himself -- he hurt himself with a throwing error in the third that led to three runs, but the upside was all three runs were unearned. Third baseman
Chris Johnson
and second baseman
Jose Altuve
notched the other two errors.
Waino returns.
The Cardinals may have lost Albert Pujols this offseason, but they added
Adam Wainwright
. The right-hander will be making his first start since notching his 20th victory of 2010 on Sept. 24, 2010 against the
Cubs
. He finished second in the Cy Young voting that year to
Roy Halladay
. He suffered an elbow injury in spring training of 2011 and underwent Tommy John surgery. This spring he looked good until his last start. He didn't allow a run in his first 16 1/3 innings before the
Tigers
touched him four four runs in 4 2/3 on March 28. Oh, and
Zack Greinke
's on the mound for the Brewers.
4:05 p.m. ESTMiami malaise.
The new-look Marlins lineup has managed just one run and seven hits in two games so far this season. Miami is hitting just .119 with nine total bases. In Thursday's game in Cincinnati, no Marlin made it to third base in the 4-0 loss to the Reds. The good news for Miami is that Reds starter
Mat Latos
, who is making his Cincinnati debut, is 0-2 with a 9.26 ERA in three career starts against the Marlins.
7:10 p.m. ESTNot you again.
The A's and Mariners will be playing their fourth game against each other this season, and it'll be the second time the A's have to see
Felix Hernandez
. A week-and-a-half ago, Hernandez allowed five hits and a run in eight innings, while striking out six and walking none. The Mariners may not be celebrating their draw, either.
Oakland
's starter,
Bartolo Colon
, was even better the next day, picking up the win as he limited
Seattle
to just three hits and a run in eight innings. The A's will be the opponent on April 13 in Seattle's home opener with, you guessed, Hernandez on the mound.
9:05 p.m. EST
• Train track power.
Rockies shortstop
Troy Tulowitzki
hit a ball off of the train tracks at Houston's Minute Maid Park in the ninth inning of
Colorado
's 5-3 victory over the Astros.
Watch it here
. And would you believe that wasn't the longest homer of the day?
Check out Cespedes' 462-foot shot
.
• Forgotten wonder.
I grew up moving all around the world as a Navy brat, but did spent four years in South
Texas
. Every year, my dad and I would make the four-hour trek (what's considered a short trip in Texas terms) to Houston, to take in an Astros game at the Astrodome. This wasn't the building's heyday, it was the late 80s and early 90s, but it was still every bit a wonder.
It's sad to see the dome's current state
.
• Series to remember.
I can't imagine how a die-hard fan of the Rangers or Cardinals felt during Game 6 of the World Series, much less the likes of
David Freese
or
Josh Hamilton
. With a little hindsight, Sony talked to the two about Game 6 in this spot for MLB The Show.
• Buy me some sushi and waffle dogs.
E
ater.com has a dining guide
for many of the big league's ballparks, while the
Orioles
debuted a new idea -- bacon on a stick, which is exactly what it sounds like. And in Texas, everything's bigger,
including the $26 hot dog
.
• Primed for a breakout?
We all know spring training stats don't mean a thing, right? However,
John Dewan of ACTA Sports writes that his research has shown that players who beat their career slugging percentage by more than 200 points in spring training
have a better than 60 percent chance at beating their career slugging percentage. Using that, look for
Andre Ethier
,
Cody Ross
and
Carlos Ruiz
to have big seasons after their spring performance.