Francona's ill feelings toward Red Sox linger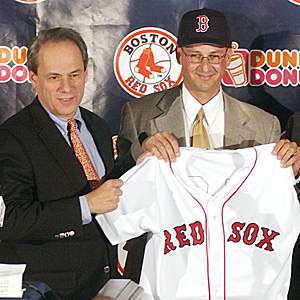 Former Red Sox manager still seems to have issues with the Red Sox, specifically club president Larry Lucchino (the two are pictured right, in the pre-soap opera era).
Apparently Lucchino had invited Francona to attend the celebration for the 100th anniversary of Fenway Park's opening, and Francona declined the invite (maybe it was a non-vite or un-vitation, Seinfeld fans?).
Francona's still upset with how things went down after he was fired, what with a still-unknown Red Sox insider leaking negative things about Francona and his players to the local media.
"Somebody went out of their way to make me look pretty bad,'' Francona said (
Boston
.com). "It's a shame. I'm sure they'll have a great event and I was part of a lot of that stuff there, but I just can't go back there and start hugging people and stuff without feeling a little bit hypocritical.''
In fact, it sounds like things got a bit heated between Francona and Lucchino on the phone.
"Larry called me yesterday,'' Francona said Tuesday (
Boston.com
). "I was in a phone store in Arizona. I had three people standing around me. I was at a little bit of a disadvantage. He got a little perturbed at me, telling me I was being unfair to them. I called him back last night and left him a message. He called me back and we ended up getting into an argument. I just feel like someone in the organization went out of their way to hurt me and the more we talked I realized we're just not on the same wavelength. They're probably better off going forth and leaving me out of it.''
For his part, Lucchino maintains that his invitation was sincere and that he also understands why Francona has decided not to attend.
There are a lot more quotes in the
Boston.com article
, but it's all pretty much repetition. Someone in the Red Sox organization anonymously slammed Francona and the 2011 Red Sox last offseason and he's still upset about it.
For more baseball news, rumors and analysis, follow @EyeOnBaseball on Twitter, subscribe to the RSS feed and "like" us on Facebook.