Want a Bryce Harper rookie card? It'll cost $25K on eBay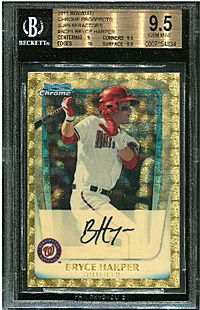 Nationals
phenom Bryce Harper still hasn't played in a regular-season major-league game, yet his
rookie card will cost you $24,999.99 on eBay
. At least that's what the prospective seller is asking for.
I haven't paid attention to the going rate of baseball cards since I was about 13, but doesn't that seem a bit outrageous? I could easily be wrong, as following baseball card value isn't part of my job description.
Here's the info on eBay, where the seller tells you why this card is worth 25 grand:
"This is Bryce's first superfractor of him in his Nationals uniform. It is serial numbered 1/1 and is absolutely stunning in person. This card was professionally graded by BECKETT and received a final grade of 9.5(gem mint). This card was personally pulled by me from a pack of 2011 Bowman Jumbo earlier this year at D&P cards located in Sacramento, CA. Bryce is the Nationals #1 prospect and is currently one of the most sought after prospects by collectors in all of baseball. This is a once in a lifetime opportunity to own this card."
The non-superfractor version of the card that doesn't have a serial number of 1/1
can be had for $24.99 on Amazon.com
. So making the card a superfractor with 1/1 serial number evidently multiplies the value of the card by 1,000 percent.
I'll pass, but to each his own.
Hat-tip: The Nats Enquirer
For more baseball news, rumors and analysis, follow @EyeOnBaseball on Twitter, subscribe to the RSS feed and "like" us on Facebook.