Pete Rose, PED-users in Hall of Fame? Union leader says yes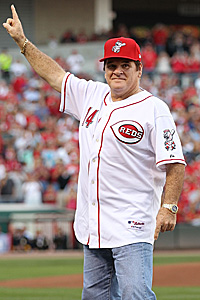 Michael Weiner, the executive director of the Major League Baseball Players Association, discussed his view of the Hall of Fame during a question and answer session in Washington, and it's bound to draw plenty of discussion.
"The Hall of Fame is for the best baseball players who have ever played," Weiner said Wednesday (
NYTimes.com Bats blog
). "Pete Rose belongs in the Hall of Fame. He has more hits than anybody else."
As far as alleged or proven PED-users who had the numbers to be Hall of Famers? Weiner doesn't believe they should be held out specifically because of the PED use.
"If you want to have some notation on their plaque that indicates that they were either judged to have used performance enhancing drugs, or having done that, so be it," Weiner said (
NYTimes.com Bats blog
).
Before we dive into the debate, let's clarify that this is a two-part discussion. The Baseball Writers Association of America (BBWAA) votes in Hall of Fame players, at least initially. The Golden Era Veterans Committee also has a shot (they voted in Ron Santo this past December). But Pete Rose isn't an option for either group, because he's banned from baseball. So it would take an act from MLB commissioner Bud Selig to reinstate Rose before he's even a discussion on getting voted in. It still amazes me how much people gripe about Pete Rose not being in and blame the writers. Please redirect your venom.
Anyway, Weiner's comments will surely inspire a debate. Here are both sides:
Pro - The Hall of Fame is a museum of baseball history. A small story of the player is told on each plaque, so why not mention his questionable choices while also noting the history he made on the diamond? Plus, there are already plenty of morally-questionable players who have been inducted to the Hall of Fame.
Con - If a player cheated the game by using performance-enhancers or gambling on it while involved with a club, he should not be glorified by being elected to the Hall of Fame. Further, if he cheated and played against players who didn't cheat, we can't be sure he was really a great enough player to merit induction.
So there you go. Have at it in the comments section. Just remember, this is a completely subjective issue. There's no right or wrong answer here. Give civility a chance.
For more baseball news, rumors and analysis, follow @EyeOnBaseball on Twitter, subscribe to the RSS feed and "like" us on Facebook.