Kerry Wood hits the disabled list with 'shoulder fatigue'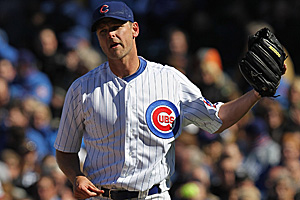 The
Cubs
have placed relief pitcher
Kerry Wood
on the 15-day disabled list, the club announced Friday. This comes just a few days after Wood flew back to
Chicago
to get a cortisone shot in his right shoulder. The Cubs have said he has "shoulder fatigue."
Relief pitcher Scott Maine has been recalled from the minors in a corresponding move.
Wood, 34, is a huge fan favorite in Chicago due to all the injury adversity he fought through in the early part of his career. He hasn't had a major injury since 2007, but hearing "shoulder fatigue" this early in the season has to be a cause for concern -- especially since the issue began in mid-March. His last major injury was a torn rotator cuff, recovery from which caused him to move to the bullpen in the 2007 season.
Wood had a rough beginning of the season, as he currently sports an 11.57 ERA along with a loss and a blown save. Last season, however, he was effective, with a 3.35 ERA, 1.29 WHIP and 57 strikeouts in 51 innings.