Red Sox brass not blaming Bobby Valentine for slow start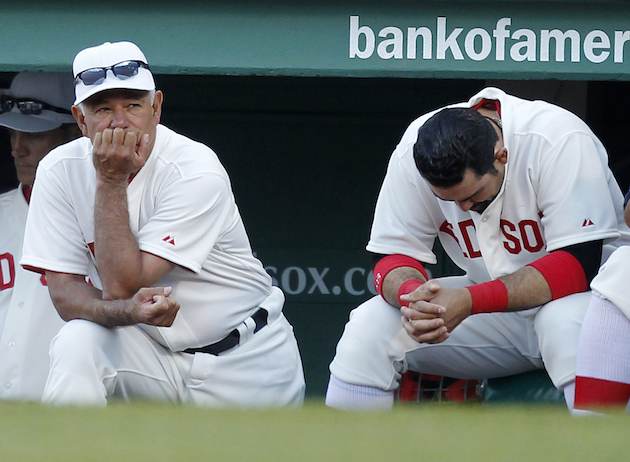 When you're getting the dreaded "vote of confidence" just 14 games into a 162-game season, you know things aren't going well -- and if you're in the hypersensitive Boston market, well, the Mayans may have been right, the end of the world could be coming. After the
Red Sox
blew a 9-0 lead on Saturday, Boston general manager Ben Cherington, president Larry Lucchino and principal owner John Henry met with Bobby Valentine for 30 minutes.
Henry told CSNNE.com's Sean McAdam that the group wasn't placing the blame on Valentine.
"This is not a 14-game problem,'' said Henry told McAdam, referencing the team's 4-10 start. "This is 41-game problem (dating back to the Red Sox' disastrous 7-20 mark last September). Our pitching has been terrible over the last 41 regular season games."
While Henry still seems to be blaming chicken, beer, Theo Epstein and Terry Francona, at least Cherington is taking some responsibility himself.
"The players will always influence wins and losses more than anybody else, and that's no different here. Cherington told reporters, including CBSSports.com Insider Danny Knobler afterward. "He's doing the best he can with the roster he has. It'll get better -- he knows that and I know that, and along the way, if changes need to be made on the roster, that's my responsibility."
Cherington said he's "very satisfied" with Valentine's performance.