Report: Carl Crawford to see Dr. James Andrews for elbow injury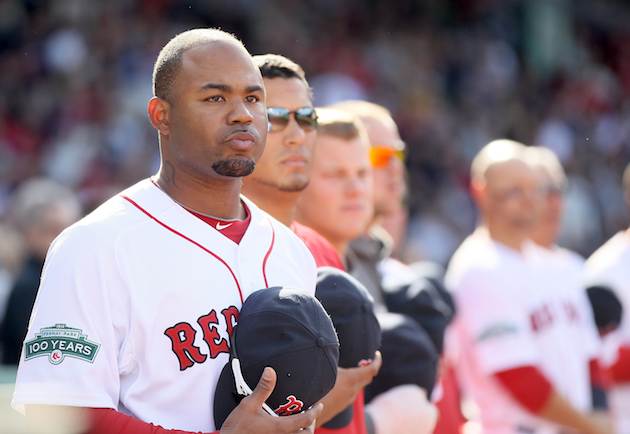 Red Sox
outfielder Carl Crawford will have his left elbow examined by Dr. James Andrews,
Sean McAdam of CSNNE.com tweets
.
On Tuesday, Red Sox manager Bobby Valentine told reporters that Crawford, who returned to Boston on Tuesday to have his elbow re-examined before returning to the team's complex in Fort Myers, Fla. Crawford will apparently visit Andrews in the near future.
The elbow injury was originally diagnosed as a strain, but Crawford apparently wants to get a second opinion. Crawford had surgery on his left wrist in January and while that rehab has gone well, he experienced soreness in his left elbow two weeks ago.
"We're still getting all the information," Valentine told reporters on Tuesday (
via the Boston Herald
). "His elbow is a situation that we really want to deal with sooner rather than later to make sure it's fine before he starts throwing."
The team originally expected Crawford back by May 1, but that seems optimistic if he still hasn't been cleared to throw. Crawford has been able to appear in extended spring training games in Fort Myers, but had only served as a DH.
"He's feeling so good with his hitting and his wrist right now, he doesn't want to have any setbacks," Valentine said (
via CSNNE.com
). "I think he's getting someone else to confirm that the [elbow] is what we think it is, which is just a little soreness. I'm not going to medically describe what it is."