Did Torii Hunter call Mike Scioscia out?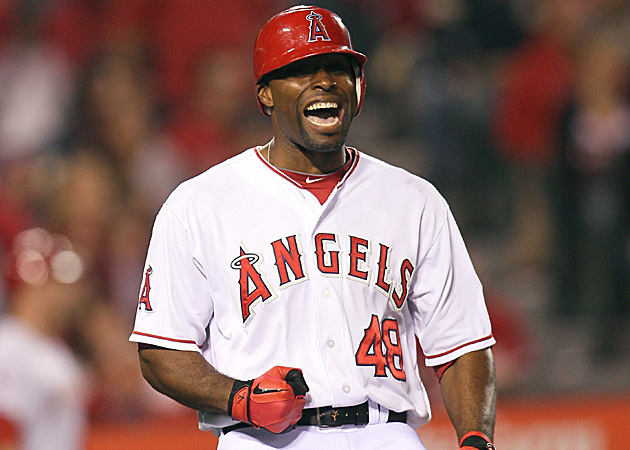 The
Angels
lost again Wednesday night, 3-2 to the
Rays
. The Angels -- who entered the season with World Series aspirations -- are now 6-12, which is a pace of 54 wins over the course of 162 games. After the loss, it sounds like right fielder
Torii Hunter
went after manager Mike Scioscia indirectly.
"You have to dig deep," right fielder Torii Hunter said (
latimes.com
). "We can't get down in the first two innings and say, 'Here we go again.' We have to fight a little harder. I don't think we believe we're trying that hard. We're just going through the motions. We have to do what we're capable of doing. That's everybody; not just the players."
Hmmm ... "not just the players." OK, well, he didn't especially name names. That quote in and of itself is pretty run of the mill, but there's more.
Via latimes.com
:
Asked if the game could have changed with some early execution, Hunter said, "You mean if we bunted in the second? What can we do? All we do is play the game."
Uh oh. That sounds pretty clear, doesn't it?
Hunter references when he singled and was followed by a
Vernon Wells
single in the second inning.
Maicer Izturis
then came to bat with two on and no one out. Izturis flew out and the Angels would eventually leave the bases loaded that inning. And, again, they only lost by one.
Scioscia also left in reliever
Jason Isringhausen
throughout the eighth inning, one in which Isringhausen walked four (one intentionally), forcing in the Rays' third run of the game.
Scioscia is one of the more respected managers in the game and has a pretty solid resume, but when things are going this badly to start a season, the sniping is bound to begin. It'll be interesting to see how things transpire from here, but we all know one thing: Winning cures all. If the Angels start winning, all of sudden everyone will be best friends again.
For more baseball news, rumors and analysis, follow @EyeOnBaseball on Twitter, subscribe to the RSS feed and "like" us on Facebook.