Dmitri Young talks baseball cards and wanting to trip Barry Bonds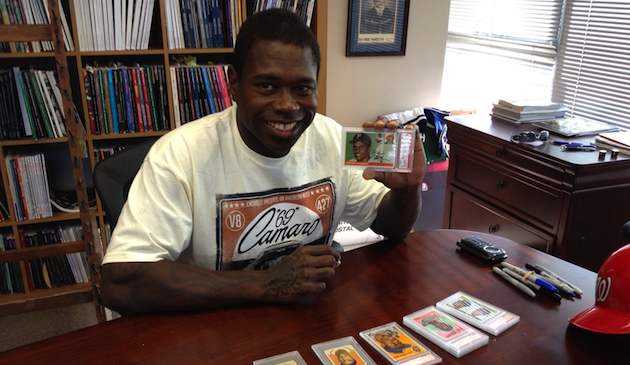 Former big-leaguer Dmitri Young is unloading one of the most impressive baseball card collections around, putting rookie cards of the likes of Hank Aaron, Roberto Clemente and Pete Rose up for auction to benefit his own foundation for kids in his hometown of Camarillo, Calif.
Young, 38, is selling nearly 500 cards, including every Hall of Fame rookie card from 1948-1990. Among the group is the only Roberto Clemente, Pete Rose and Reggie Jackson cards ever graded as a PSA 10 Gem Mint. He also is selling a 1954 Hank Aaron rookie that is one of just two cards to ever been graded a 10. The Clemente and Aaron cards are worth an estimated $250,000 each.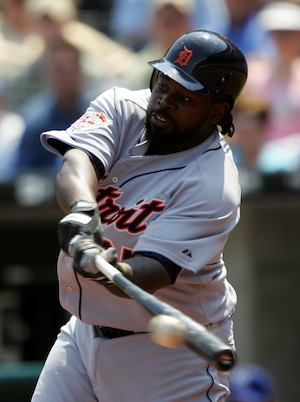 Bidding on the cards will begin Monday and continue through May 19. The auction will be conducted at
SCPAuctions.com
. Young said the proceeds will go to the Dmitri D. Young Foundation, which will be used to help kids, with an emphasis on not just baseball, but healthy living. Young said he has Type 2 Diabetes and in an attempt to get off the medicine has dropped 80 pounds since January of 2011 -- "I'm not the same guy you saw in Washington," he said.
We spoke to Young, a veteran of 13 seasons, on Thursday (note, this was before his brother, Delmon, was arrested) about the auction, baseball cards and other topics, including his reaction to Barry Bonds' 756th home run, which he witnessed from first base.
Q: So, why sell now?
A: Why hold on to it? You come to a time in your life when it's time to do other things. When you have something as massive as that and that was 12 years in the making, it wasn't like I inherited it, I started it from scratch. The collection was with me through the good times and the bad times and now I've started a foundation, the Dmitri D. Young Foundation, that will help kids around here to go out and play travel ball and go to different camps. We're also running a camp here this summer. So, what do you do when you're finished playing? You find other things you like to get into and for me giving back to the community that I grew up in, that's what I'm all about. The collection served its purpose, it was fun for me, even during my darkest days, my collection kept my sanity?
Q: How so?
A: In '06 I was going through a whole mess of crap, so with the collection, the Gem Mint 10 collection, so a lot of things I would do would be to get away from reality and go on to baseball cards and go through the collection and find new 10s. Doing that, it took me away from what was going on at the time and it helped bring me back to my life when I got back to Washington in '07. I'd gotten to the point where selling now to help my foundation get off the ground.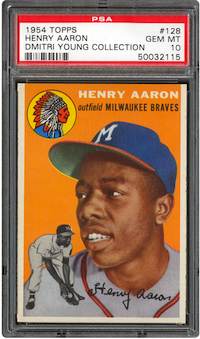 Q: So, what was it you were going through?
A: There was just a mess of things -- divorce, injury -- it was a just a whole bunch of things. The whole alcohol thing was an easy excuse to go to, but people who know me know I'm not an alcoholic. I've gone almost a year without drinking because it's my choice. Being a Type 2 Diabetic and now I weight 225, my lifestyle has changed and because of that the weight came off.
Q: This is probably a low point for the market, so it seems an odd time to sell.
A: That's true, but I have some things that quite frankly are regardless of what's going on the world -- it's like art, the pieces I have are pieces of artwork. The Roberto Clemente, the Hank Aaron, I could go on and on… the Pete Rose. I'm a big Pete Rose fan by the way, he should be in the Hall of Fame. But that's a whole different subject in itself.
Q: Is there a favorite card?
A: It's the Hank Aaron. The Home Run King -- there's another guy that has the record, but the Home Run King is Hank Aaron. I was there for the game when 756 was hit, I was playing first. Deep down inside, when (Barry) Bonds hit it, I wanted to stick my foot out and trip him.
Q: So, I'm guessing you have a hardline stance against the steroid users?
A: It's not the steroid issue, it's the [jerk] issue. To each their own, but when you're on an All-Star team with a guy and your son goes up to him and says he appreciates what you've done and he ignores him and walks off -- I take that personal. Very personal. Of course, even if it came up, he'd deny it. But why would an 11-year-old kid lie? I was a big fan of Barry Bonds before that. I used to defend him and everything. But being persecuted, then to sit there and [be a jerk] to my son. … Yeah. I enjoyed watching him play, but the way he treated people -- I'm not about treating people like crap, regardless of who you are, what you do for a living, I'm not about that.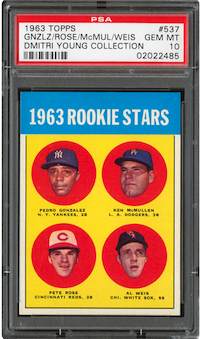 Q: So back to the cards… did you grow up collecting?
A: Heck yeah, that's what I did. I was always interested in rookie cards. It was 1985, that was my first big set. That was with Doc Gooden, Roger Clemens, Mark McGwire. Orel Hershiser. John Franco, a lot of guys in that rookie set. I liked rookie cards. I don't know why I liked the rookie cards -- the first one, i guess, and the most expensive. I was fascinated by it. I would trade with kids in the neighborhood. I would get some good deals, I'd always buy a lot of cards, so I had cards and I'd trade a bunch of cards for one rookie card. Once I got to the big leagues, I was just buying regular cards here and there and I want to say in 2000 I did a card show with Danny Graves in Erlanger, Ky., (outside of Cincinnati) and all I wanted was a Pete Rose rookie card and the promoter instead of paying me the money, he gave me a Pete Rose rookie. It was a PSA 8. I had no idea what PSA was, why the card was in this hard case, what's the serial number stuff here, what's going on. He explained to me what PSA was and I looked it up and presto -- there you go.
Q: So that Pete Rose card got you into it?
A: That offseason, I started going on eBay, buying more 8s, more 8s and then I started getting 9s. And when I started buying 9s, people were offering me 10s. So it went from buying near-mint 8 rookie cards to the big dog 10s. At the time it was when the market was high and before I met Dave Bailey, who is the architect of the collection. He was a dealer up in Detroit and I met him through Robert Fick when I was a Tiger. Everything about the collection changed, it went from an athlete who had some money and wanted to buy cards to the point now where I'm an expert. I know what to look for in cards, I know the deals, I know the error cards. Everything you can know, I know.
Q: Is your rookie card in the collection?
A: My rookie card was an Upper Deck. I'm keeping one for me and one's in the collection [up for sale].