Cardinals activate Allen Craig from DL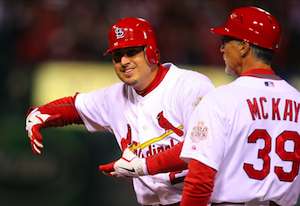 The
Cardinals
activated infielder/outfielder Allen Craig from the disabled list on Tuesday, designating outfielder
Erik Komatsu
for assignment.
Craig, 27, had right knee surgery in November and on Monday completed a rehab assignment, hitting .357/.379/.679 with three home runs in seven games at Triple-A Memphis and Class A Palm Beach. He played nine innings in the field on Monday -- all at first base -- going 3 for 4 with two home runs.
The team was cautious with his rehab, making sure he didn't come back too early. So now, instead of pinch-hitting and playing games every couple of days, he's at the point where he can be in the lineup every day, even if he may not be needed.
Craig hit .315/.362/.555 with 11 home runs and 40 RBI in 75 games for the Cardinals last season, playing six different positions -- all but pitcher, catcher and shortstop. He hit four homers in the postseason, including three in the World Series. He also caught the final out of the World Series.
Komatsu was a Rule 5 pick from the Nationals in December. The Cardinals put him through waivers and if he clears, then they have to offer him back to the Nationals for $25,000. Komatsu had four hits in 19 at-bats in 15 games.