Aaron Cook will start Saturday for Red Sox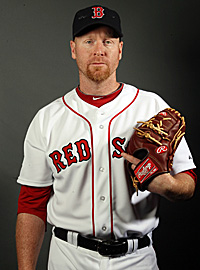 The
Red Sox
will apparently look to upgrade their troublesome pitching staff with 33-year-old right hander Aaron Cook. Cook will be promoted and join the big-league club, and he will start Saturday instead of Josh Beckett -- who threw 126 pitches last Sunday. Red Sox manager Bobby Valentine announced the decision on Boston radio Wednesday afternoon (
via BostonHerald.com
).
Cook requested his release on May 1 -- which was an option in his contract had he not been recalled by then. But the contract also says the Red Sox have 48 hours to recall him and retain him after he's opted out.
Cook pitched well for Triple-A Pawtucket, going 3-0 with a 1.89 ERA and 1.11 WHIP in five starts. He even threw two complete games. His K/BB ratio wasn't good at all, though, as Cook only struck out 13 while walking 11. Still, it's worth a shot. The Red Sox big-league staff has a 5.51 ERA and 1.50 WHIP.
If Cook is placed in the rotation -- for more than what amounts to a spot-start, that is -- and sticks, it might mean
Daniel Bard
is permanently moved to the bullpen for the 2012 season. That would go a long way in solving the bullpen woes.
Of course, recent history isn't favoring that happening. Cook was 3-10 with a 6.03 ERA and 1.69 WHIP last season for the
Rockies
. Yes, the Rockies' home stadium is hitter-friendly, but the rest of the NL West is pretty cozy for pitchers. The AL East is not. Plus, Bard has been pretty good in two of his three starts this season and has a much higher upside at this point than Cook.
So we'll wait and see how this turns out, but the bottom line for now is that Cook will be starting Saturday.
For more baseball news, rumors and analysis, follow @EyeOnBaseball on Twitter, subscribe to the RSS feed and "like" us on Facebook.