Ozzie Guillen still needs to add 'no comment' to vocabulary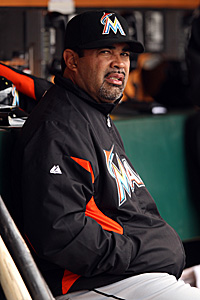 I like
Marlins
manager Ozzie Guillen in terms of his enthusiasm and entertainment factor. It's just that he really needs to stop providing people with negative material on himself. The latest? A reporter asked Guillen if that
whole "I love Fidel Castro" firestorm
had blown over or at least died down a bit. Seems reasonable. It has been several weeks, and it seemed like a huge deal at the time. So is he still having problems or is the backlash a thing of the past?
Evidently, Ozzie doesn't agree. He didn't think the question was reasonable.
His response? "[expletive] grow up, mother[expletive]."
There's a
YouTube with not-even-remotely-safe-for-work audio of the answer
, and it's clear as a bell. Credit the reporter, Paul Gallant, for not being offended. He
tweeted that he loves Guillen and is "legit honored"
Guillen told him to, you know, leave him alone ... in Ozzie's own way.
Still, surely some fans and media will be angry about this -- or at least point out he's not going to change any time soon. I'll simply reiterate my longstanding point that while I'm entertained by Guillen's answers on a regular basis, it would behoove him professionally to practice saying "no comment."
Via Awful Announcing
For more baseball news, rumors and analysis, follow @EyeOnBaseball on Twitter, subscribe to the RSS feed and "like" us on Facebook.