Chris Sale returns to rotation Saturday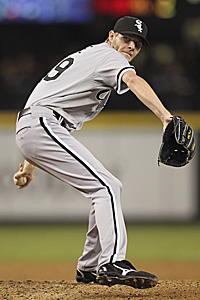 Just a week after the
White Sox
announced that talented young starting pitcher
Chris Sale
would be shifted from the rotation to closer, there's already been a course change. General manager Kenny Williams said Sale will start Saturday for the White Sox against the Royals (
Chicago Sun-Times
).
Sale made just one relief appearance this past week, and he blew a save chance against the
Indians
while allowing an unearned run. He was a reliever last season, but the White Sox moved him to the rotation this spring due to his immense upside. After the move to the bullpen, Sale lobbied management to return to the rotation.
"I'm really proud because he stood up for himself," Williams said (
suntimes.com
). "He was adamant (he wanted to start.)"
Also of note in this situation is that Sale had a sore elbow (the MRI came back clean) and his agent is concerned with the jerking back and forth.
"In short, yes I am extremely concerned about the way the White Sox have approached this entire situation with Chris and his future,"
Sale's agent BB Abbott wrote ChicagoTribune.com
in an email. "It is his future, isn't it?"
Exactly. My first thought on the move to rotation and then closer and then back to rotation? Joba Chamberlain.
Obviously, one example isn't even close to the rule, but we've seen shifting back and forth seemingly cause a regression in stuff in Chamberlain and a live, young arm like Sale's is a delicate thing.
As a starter this season, Sale is 3-1 with a 2.81 ERA and 1.00 WHIP with 29 strikeouts in 32 innings. The 23-year-old lefty is one of the most promising young guns baseball. The rotation seems like the best possible spot for him, so let's hope he stays put.
For more baseball news, rumors and analysis, follow @EyeOnBaseball on Twitter, subscribe to the RSS feed and "like" us on Facebook.