For the first time in 2012, Adam Dunn didn't strike out in a game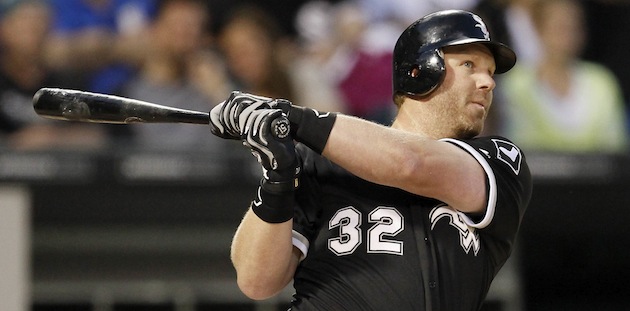 Friday was a pretty good day for Adam Dunn -- not only did he
hit his 11th home run of the season, matching his 2011 total
, he also didn't strike out. And that's the first time this season he could say that after a game.
Dunn struck out in a record 36 consecutive games, dating to the end of his disastrous 2011 season, and including the first 32 games of the 2012 season. Joe Taxiera, author of "A Unique Look at Big League Baseball" researched the streak and found not only was it the longest streak in history -- but by 10 games. Researching all such streaks back to 1918, Taxiera's research showed the previous record was 26, shared by Brad Hawpe, Geoff Jenkins and Mike Cameron.
"Any time you can have a record, it's pretty cool," Dunn joked to
the Chicago Tribune's Dave van Dyck
. "But to me, I don't want to sound like it's not a big deal, because it obviously is, but what matters is more (when you strike out). If you're striking out with men in scoring position, that's bad. If it's with two outs, I'm obviously trying to put a run up."
Dunn said he doesn't necessarily like striking out -- but realizes it's part of the deal that comes with slugging.
"I could completely change my [style] and probably strike out a quarter of the time," Dunn
told the Tribune
. "But that's not what I'm here for. I could try to put the ball in play, but what's that going to accomplish? Nothing."
With 47 strikeouts already this season, Dunn's on pace for a record 231 strikeouts in 2012. But if that comes with the 54 home runs he'd hit on his current pace, the White Sox would certainly take it. And I have a feeling
Matt would agree
.