Braves celebrating Sid Bream's slide with bobblehead
While the Ryan Roberts tattoo sleeves may have won t
he giveaway of the year award from Dayn recently
, the bobblehead of the year will be given to the first 20,000 fans on June 9 at Turner Field before the Braves' game with the Blue Jays.
Here it is: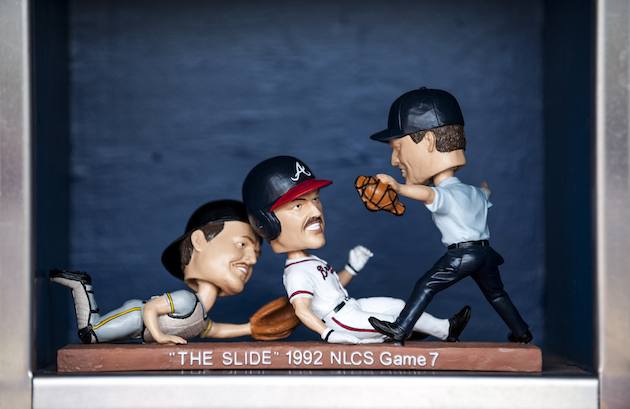 Yep, that's "the slide" from Game 7 of the 1992 National League Championship Series with Sid Bream, Mike LaValliere and umpire Randy Marsh. The team had to get permission from all three -- plus the Pirates -- to produce the bobblehead.
For every
Braves
fan who complained that the team let the
Twins produce the fantastic Ron Gant-Kent Hrbek bobblehead
given away at Target Field last year, you must now apologize, because the Braves recognized a great idea when they heard it and used it to produce this one.
The Gant-Hrbek bobblehead is
currently going for $70 on eBay
, and it'll probably take at least that much to get one of the Bream bobbleheads.
Anyway, well done, Braves, well done.
Special thanks to the Braves' Jim Misudek for the photo, which was taken by Pouya Dianat.