Report: Sandoval questioned by police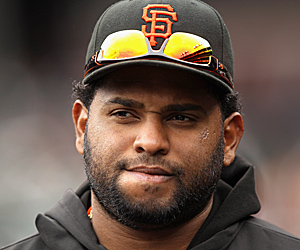 Giants
third baseman Pablo Sandoval has been questioned by the Santa Cruz County Sheriff's Department and may eventually face sexual assault charges,
reports Andrew Baggerly of CSN Bay Area
.
"On Friday, June 1, Pablo Sandoval voluntarily met with the Santa Cruz County Sheriff's Department related to a consensual, personal relationship of a sexual nature that took place on that day," attorney Eric Geffon
told CSN Bay Area
. "Pablo fully cooperated with the Sheriff's Department out of respect for the process. We have no further comment at this time."
This is obviously a delicate matter, so let's make sure to either point out or reiterate a few things. First of all, at this point Sandoval has only been questioned; he hasn't been charged. It is said to be an ongoing investigation. Secondly, let us recall
Starlin Castro
of the
Cubs
having a similar situation this past offseason -- of which nothing ever came. So as we move forward, keep those two things in mind before passing judgment.
The details,
via CSN Bay Area
:
Sources confirmed that the incident took place early Friday morning at the Seascape Beach Resort in Santa Cruz County, but that Sandoval was not a registered guest at the property. Police were not called to the scene but sources say the woman in question later contacted authorities and reported that she was too intoxicated to give consent.

She submitted to a sexual assault forensic evidence kit at an area hospital, sources confirmed.

Sandoval has not been charged and the investigation is ongoing, sources said.