Rockies pull Jorge De La Rosa off rehab stint due to fluid in elbow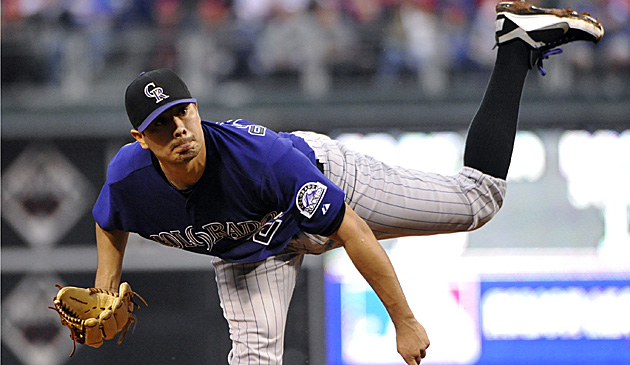 Rockies
starting pitcher Jorge De La Rosa had Tommy John surgery to repair the torn ulnar collateral ligament in his pitching elbow around a year ago. He had made six minor-league rehab starts this season on his road to return but has now been called off his assignment by the Rockies. The issue is fluid in De La Rosa's left elbow,
reports Patrick Saunders of the Denver Post
.
"I don't want to this to sound like this is earth-shaking or shocking or really bad," manager Jim Tracy said (
denverpost.com
). "This happens periodically when you are recovering from (Tommy John) surgery. I know this for a fact."
De La Rosa, 31, wasn't exactly instilling fear in the minor leaguers, as he had a 7.71 ERA and 1.90 WHIP in 17 1/3 innings across High-A, Double-A and Triple-A. So it makes sense that he hasn't been completely healthy.
Before the injury last season, De La Rosa was 5-2 with a 3.51 ERA, 1.19 WHIP and 52 strikeouts in 59 innings.
The Rockies could certainly use a healthy De La Rosa in the rotation, as their starting pitchers were 11-21 with a putrid 5.81 ERA and 1.66 WHIP on the season entering Sunday.
There's no set timetable on De La Rosa's return to Colorado, but after this setback one can bet it won't happen until sometime after the All-Star break.