Drafted players on display at College World Series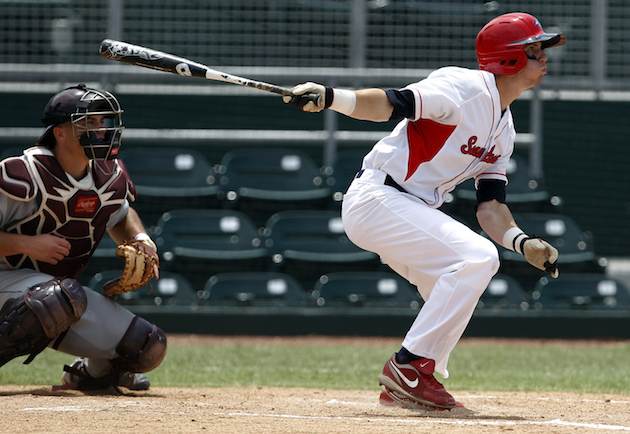 I've never heard of anyone doing College World Series brackets and there's no marching bands or any of the pageantry of a Saturday afternoon in the fall, but it's still one of the country's great events, and it begins today.

The eight-team tournament features double elimination in bracket play and then a best-of-three final between the winners of the two brackets. Bracket 1 has Arizona, Florida State, UCLA and Stony Brook. Bracket 2 features Kent State and three Southeastern Conference teams, Arkansas, Florida and South Carolina.

To get you ready for the action that starts Friday, here's a quick look at the eight teams in the College World Series, the schedule and their big-league connections.

Friday, 5 p.m. ET -- Stony Brook (52-13) vs. UCLA (47-14)
Stony Brook -- First off, Stony Brook is in New York, on Long Island. WIth that out of the way, the Seawolves are the Cinderella story of this year's CWS. A Division III program until 1995, Stony Brook moved to Division II and then Division I in 2000. While Stony Brook is just the second No. 4 seed to advance to Omaha, the first, Fresno State in 2008, went on to win the title. Seven Stony Brook players were taken in the recent draft, with center fielder Travis Jankowski being taken 44th overall by the Padres. The first-team All-American is hitting .422/.485/.636 with five homers. He led the country with 109 hits. Also drafted were catcher Pat Cantwell (3rd round, Rangers), infielder Maxx Tissenbaum (11th round, Padres), third baseman/reliever William Carmona (11th round, Phillies), right-hander James Campbell (12th round, Dodgers), right-hander Jasvir Rakkar (26th round, Cubs) and right-hander Tyler Johnson (33rd round, A's). UCLA alum Danny Knobler wrote about Stony Brook's lone big-leaguer, Rangers closer Joe Nathan earlier this week.

UCLA -- One of the top-seeded teams in the tournament, the Bruins play Goliath to Stony Brook's David. They're led by outfielder Jeff Gelalich, a first-round supplemental pick (57th overall) by the Reds. Gelalich hit .365/.458/.558 this season with 11 home runs. Also drafted were outfielder Beau Amaral (7th round, Reds), catcher Tyler Heineman (8th round, Astros), closer Scott Griggs (8th round, Dodgers), catcher/infielder Trevor Brown (10th round, Giants), right-hander Eric Jaffe (11th round, White Sox) and outfielder Cody Keefer (15th round, Marlins).

Friday, 9 p.m. ET -- Arizona (43-17) vs. Florida State (48-15)
Arizona -- The Wildcats may have a little magic that led Charlie Donovan's Indians to the pennant in the late 80s, as the team moved to Tucson's Hi Corbett Field for its home games this season. Hi Corbett is the Rockies' former spring training home and was used to shoot the spring training scenes in Major League. However, the Indians didn't take any Arizona players in the recent draft, so there's no easy transition to that part for your writer. The Cardinals took shortstop Alex Mejia in the fourth round and outfileder Robert Refsnyder (5th round, Yankees), right-hander Kurt Heyer (6th round, Cardinals), third baseman Seth Mejias-Brean (8th round, Reds) and center fielder Joey Rickard (9th round, Rays) were also drafted.

Florida State -- Senior outfielder James Ramsey has been called the Tim Tebow of the Seminoles for his leadership, faith and all-around good-guyness. But he's also a pretty fair ballplayer, taken in the first round (23rd overall) by the Cardinals. Ramsey hit .382/.519/.673 with 13 homers for the Seminoles. Also drafted were first baseman Jayce Boyd (6th round, Mets), right-hander Robert Benincasa (7th round, Nationals), third baseman Devon Travis (13th round, Tigers), infielder Sherman Johnson (14th round, Angels), right-hander Hunter Scantling (14th round, Tigers) and infielder Justin Gonzalez (27th round, Dodgers).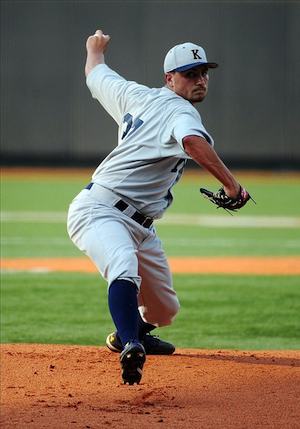 Saturday, 5 pm. -- Kent State (46-18) vs. Arkansas (44-20)
Kent State -- The Golden Flashes would be the big story of the College World Series if not for Stony Brook, but Kent State is a pretty impressive story in its own right. The Mid-American Conference team topped No. 5 Oregon, Big Ten champ Purdue and the SEC's Kentucky on their way to Omaha. Left-hander David Starn was taken by the Braves in the seventh round as the first of six Golden Flashes taken in the draft. Also drafted were left-hander Michael Clark (20th round, Astros), shortstop Jimmy Rider (26th round, Pirates), right-hander Ryan Bores (27th round, Rangers), catcher David Lyon (34th round, Rangers) and DH Nick Hamilton (34th round, Indians). Hamilton is the son of Indians radio voice Tom Hamilton.

Arkansas -- Don't expect fireworks from the Arkansas offense, as the team ranked 160th in the country in hitting and haven't homered in postseason play, encompassing the SEC Tournament, the NCAA regional or the super regional against Baylor -- but yet the team did what it needed to do to punch its ticket to Omaha. If there's such a thing as knowing how to win close games, the Razorbacks do -- with 21 of their 44 victories this season coming by just a single run, including two in the super regional. Two Razorbacks were taken in the second round, third baseman Matt Reynolds and right-hander Nolan Sanburn. Right-hander D.J. Baxendale (10th round, Twins), first baseman Sam Bates (28th round, Royals), left-hnader Randall Fant (29th round, Indians), outfielder Derrick Bleeker (37th round, Orioles) and Jacob Morris (37th round, Indians) were also drafted.

Saturday, 9 p.m. -- South Carolina (45-17) vs. Florida (47-18)
South Carolina -- The Gamecocks have won both of the last two College World Series, so they'll certainly go into the tournament with a target on their backs. Five Gamecocks were drafted, led by first baseman Christian Walker, who was taken in the fourth round by the Orioles. Walker hit .315/.440/.534 this season with 11 homers. Also drafted were closer Matt Price (7th round, Orioles), outfielder Evan Marzilli (9th round, Diamondbacks), left-hander Michael Roth (9th round, Angels) and outfielder Adam Matthews (29th round, Reds). Roth, a senior, only throws in the mid-80s, but has dominated at the college level.In nine career starts in the NCAA tournament, Roth has a 1.10 ERA.

Florida -- The Mariners took Gators catcher Mike Zunino with the third overall pick in the draft after the junior hit .322/.390/.678 with 19 home runs this season. The son of a Reds scout, Zunino was seen by many as the top talent in college baseball this season and is one of few players to handle the NCAA's drastic changes in bats smoothly, hitting 19 homers in each of his two seasons with the new bats. Zunino was the first of nine Gators taken in the draft, followed by left-hander/first baseman Brian Johnson (1st round, 31st overall, Red Sox), shortstop Nolan Fontana (2nd round, Astros), left-hander Steven Rodriguez (2nd round, Dodgers), right-hander Austin Maddox (3rd round, Red Sox), outfielder Preston Tucker (7th round, Astros), right-hander Hudson Randall (7th round, Tigers), outfielder Daniel Pigott (9th round, Reds) and right-hander Greg Larson (20th round, Red Sox).

For more baseball news, rumors and analysis, follow @EyeOnBaseball on Twitter, subscribe to the RSS feed and "like" us on Facebook.