Pedro Alvarez's two-game explosion not without personal precedent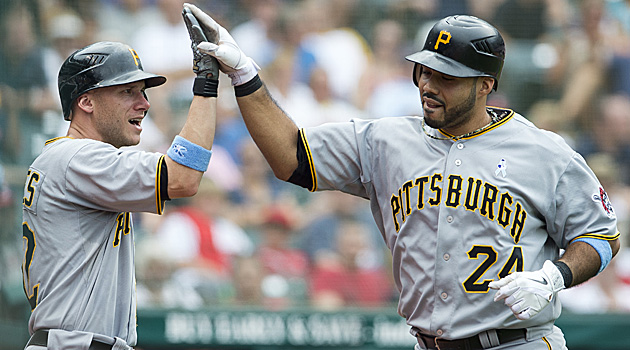 Pirates third baseman Pedro Alvarez had a big game Saturday, but an even bigger game Sunday. The two-day total: 5-for-8 with four homers, a double, nine RBI and a walk. He didn't even strike out.
This was just another reminder of the immense talent Alvarez possesses. It was also, of course, a reminder of how he's been unable to sustain a high level of play to this point. Alvarez entered the amazing two-game explosion with an abysmal triple slash line of .189/.254/.373 on the season. He goes hot and cold seemingly on a whim. And he's been about this hot before, looking at two-game stretches.
Back in 2010, Alvarez went 5-for-9 with four homers, eight RBI and a walk on July 20-21 against the Brewers. He followed that up with an 11-game stretch where he hit .103/.205/.103 in 44 plate appearances.
While not always nearly as extreme, Alvarez's early career has been chock full of examples like this. He's still only 25 years old, so there's hope for him to become more consistent and hold down the middle of the lineup behind superstar Andrew McCutchen. Or, put more precisely by my friend Pat Lackey, a Pirates blogger:
If Pedro could just have some kind of in between gear instead of SHORT BURST OF AWESOME/long stretch of suck ... well, that'd be nice.

— Pat Lackey (@whygavs) June 17, 2012
For the Pirates and their fans, yes, I'm sure it would be.
For more baseball news, rumors and analysis, follow @EyeOnBaseball on Twitter, subscribe to the RSS feed and "like" us on Facebook.