Zach Stewart a trade piece once again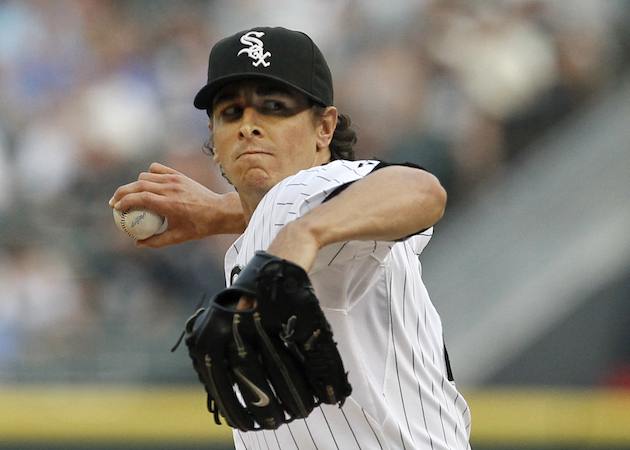 Zach Stewart probably knows by now not to get too comfortable where ever he is playing.

Drafted in the third round in 2008, Stewart has been part of three big trades -- the latest sending him from the Chicago White Sox to the Boston Red Sox as part of the deal for Kevin Youkilis. Stewart, 25, and infielder/outfielder Brent Lillibridge were sent to Boston in exchange for the three-time All-Star on Sunday.

In 2009, Stewart was part of the deal that sent Scott Rolen to Cincinnati. The Reds also sent Edwin Encarnacion and Josh Roenicke to Toronto in the deal.

Last season he was sent to Chicago along with Jason Frasor in exchange for Edwin Jackson and Mark Teahen. Jackson was then part of the seven-player deal that landed the Blue Jays Colby Rasmus.

Stewart can start and reliever, doing both this season. For the White Sox this season, he's 1-2 with a 6.00 ERA in 18 games, including one start. Monday, he went 5 2/3 innings, giving up six runs on nine hits in a loss to the Cubs. The team sent him to Triple-A Charlotte on Tuesday. In his career, he's 2-7 with a 6.29 ERA in 12 starts and 1-1 with a 5.09 ERA in 19 games as a reliever. The Red Sox will use him as a reliever, GM Ben Cherington told reporters on Sunday. He will report to Triple-A Pawtucket this week.
"We believe he can develop into a good major-league starter," Cherington said (via Providence Journal). "We want to get him back in to that role. He's a big physical strong kid with three solid pitches, throws strikes, he's had a good minor-league track record. He's a guy that looks like a major-league starter and just needs a little bit more time at Triple-A to fine-tune things."
Lillibridge, 28, is hitting just .175/.232/.190 in 70 plate appearances. He's a career .215/.283/.358 hitter in parts of five seasons with the Braves and White Sox. He's played every position except catcher or pitcher in his big-league career. He is expected to join the Red Sox on Monday.
The White Sox also got $5.5 million to complete the deal, meaning they'll only pay $2 million of Youkilis' $13 million salary for this season.
For more baseball news, rumors and analysis, follow @EyeOnBaseball on Twitter, subscribe to the RSS feed and "like" us on Facebook.