The Lineup: Giants fear Derek Norris' beard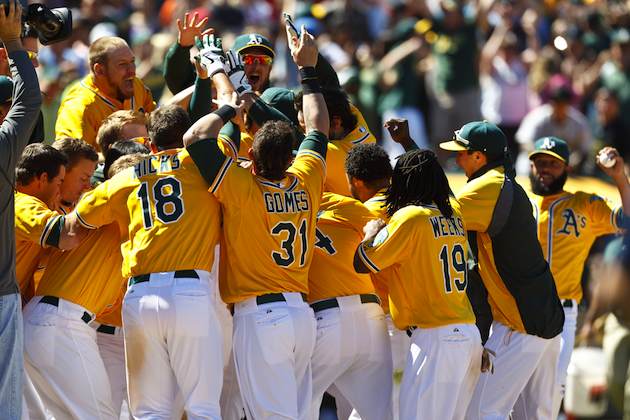 The Subway Series matchup of aces saw no-decisions for both CC Sabathia and R.A. Dickey and Dickey saw his scorelessing innings streak stopped at 44 2/3. But it wasn't all about New York on Sunday...
Full Sunday scoreboard with box scores and recaps for all games


3 UP

Derek Norris, A's: There's a new beard to fear in the Bay Area. The rookie catcher with a veteran quality beard picked a perfect time for his first big-league homer. With the A's down to their final strike against their Bay Area rivals, Norris turned on Santiago Casilla's 3-2 fastball for a three-run homer and a 4-2 Oakland victory.

Wade Miley, Diamondbacks: There was a lot of talk about the Diamondbacks' rotation heading into the 2012 season, but nobody thought the 25-year-old rookie would be the team's leading candidate to get the call to Kansas City in July. Miley allowed just three hits and a run to the Cubs on Sunday to improve to 9-3 and lower his ERA to 2.19. He's allowed just four runs over his last four starts.

Cesar Ramos, Rays: Who is Cesar Ramos? He's the 28-year-old lefty who started opposite Cliff Lee in Sunday's second game of a doubleheader between the Rays and the Phillies. While Ramos didn't get the win against the Phillies, he did do what his team needed in a game Joe Maddon was forced to rely on his bullpen. In his 10th appearance of the season -- and first start since his rookie year in 2009 -- Ramos didn't allow a hit to the Phillies in 2 2/3 innings, but did walk three. Wade Davis and Brandon Gomes each pitched 2 2/3 and J.P. Howell finished the game to deal Lee his fourth loss of the season.

3 DOWN

Aroldis Chapman, Reds: Is there a Cuban Missile Crisis? Chapman suffered his second straight blown save and loss after Josh Willingham's two-run homer gave Minnesota a 4-3 lead over the Reds. Chapman didn't give up an earned run in his first 24 outings this season, but since then he's allowed eight runs on nine hits in 6 1/3 innings in seven appearances.

Nyjer Morgan, Brewers: Every Little League coach will tell you not to make the first or third out at third base. Do it in the ninth inning? That's not so good, either. Morgan entered the game as a pinch-runner in the ninth inning and on a 3-1 pitch, Morgan went a little too far off second and instead of retreating when he was caught off second, he went toward third. He was easily thrown out, ending the Brewers' threat in the ninth. The White Sox didn't take advantage immediately, but they were able to win the game in the 10th.

Marco Scutaro, Rockies: The Rockies had the Rangers and Joe Nathan on the ropes. Colorado had already broken Joe Nathan's scoreless steak of 16 appearances and had two on with one out and Jason Giambi at the plate in a 4-2 game. Nathan's 0-1 pitch got away from catcher Mike Napoli and Scutaro broke to second, but Eric Young Jr. hadn't gone to third, so there was nowhere to go. Scutaro got in a rundown and then actually made it to second safely. But after he beat the throw -- and was called safe -- he fell off the bag and was called out. With Young on third, Giambi struck out to end the game.








Changing of the Sox: The White Sox should have a new third baseman waiting for them when they get to Target Field on Monday. Even if Kevin Youkilis is struggling this season, he should be an upgrade over White Sox third basemen this season. So far in 2012, White Sox third basemen are hitting just .167/.243/.224. Youkilis is 4 for 14 in his career against Minnesota starter Francisco Liriano in his career, including three doubles and a homer. 8:10 p.m. ET

June 25, Strasmas in Denver: Not only is Stephen Strasburg pitching at Coors Field for the first time, Monday will mark his first meeting with the Rockies. While the altitude can intimidate some pitchers, Strasburg is anything but your everyday pitcher. 8:40 p.m. ET

Zito returns: As strange as it's been to see Tim Lincecum struggle in 2012, it was just as strange to see Barry Zito pitching well. In his first 11 starts, Zito was 5-2 with a 2.98 ERA. However, in his last three starts he's given up 17 runs on 23 hits in just 14 1/3 innings. In his last outing, he allowed eight runs on nine hits in just 3 1/3 innings. The Dodgers handed him his first loss of the season on May 7, when they used eight hits to score three runs off of the lefty in six innings. 10:15 p.m. ET

Monday's probables for all games







• Gaylord Perry on 'cheating': Not too much of a shock here, but Gaylord Perry -- famous for his spitball -- thought Joel Peralta's eight-game suspension was a bit harsh. [San Francisco Chronice]

• Safeco best? A recent internet poll had Milwaukee's Miller Park as the best park in baseball. I like Miller Park, but I wouldn't go that far. That, it seems, was more of a statement on the strength of the Brewers' mobilization of their fanbase to get on a website and vote. Those kind of mass voting contests don't interest me much, but I do like reading the opinions of those who have been to most, if not all, of the parks in the game. I've only been to 20 of the 30 current stadiums, so I don't feel like I can give a definitive ranking, although I know my list looks a lot more like La Velle E. Neal III's list at the Star Tribune than the one that has Miller Park at the top. Neal had Safeco Field as his favorite, but I'd probably put PNC Park or AT&T Park at the top, but Safeco Field would be in the top 5. I also agree with Dayn Perry, who said such rankings should be broken up between pre-Camden Yards and post-Camden Yards stadiums.

• Uggla struggling: Once again, Braves second baseman Dan Uggla is in a prolonged slump. Uggla, though, dismisses the notion that he's simply a boom or bust hitter. [Atlanta Journal Constitution]
• Get that man a double-double: Tim Lincecum believes he took off too much weight this offseason. He said he's since put on 10 of the 33 pounds he lost after the 2011 season. [San Francisco Chronicle]
• Rain out: Tropical Storm Debby flooded the Phillies' spring training home, Bright House Networks Field in Clearwater, Fla. The stadium is home of the Phillies' Class A team in the Florida State League, but Clearwater played the only game that didn't get rained out on Sunday, as the team was playing the Cardianls' Palm Beach team on the other side of the state. [CSNPhilly.com]

• Power shift: Why are pitchers dominating the game? Is it the end of the steroid era, the proliferation of power pitchers, the pitches themselves, the approach of hitters or, maybe, technology? It's probably a good mix of all of those and more reasons we'll discover as we study this era more closely. [St. Louis Post-Dispatch]

For more baseball news, rumors and analysis, follow @EyeOnBaseball on Twitter, subscribe to the RSS feed and "like" us on Facebook.