He's ... back? Tim Lincecum masterful in win against Dodgers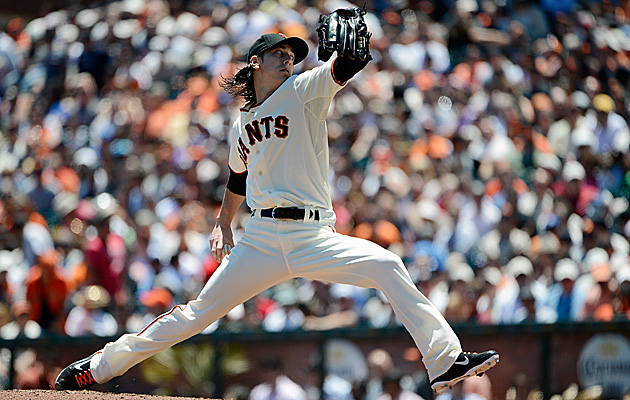 Major League Baseball seasons are marathons, 162-game marathons where many things tend to even out over the course of the season. So it is folly to overreact to one or two games. That being said, Giants starting pitcher Tim Lincecum may well be turning the corner on what had been a disastrous season.
Wednesday, he was masterful against the Dodgers, working seven shutout innings and allowing only four hits and two walks. He struck out eight, which matches a season high. Before writing this off as an aberration, let's look back at Lincecum's last outing.
He allowed three earned runs on three hits in six innings pitched against the A's on June 22. But look closer and you'll see that Lincecum gave up those three hits and runs before even recording an out. Did he somehow flip a switch and magically revert to being The Freak again?
Since the A's had the bases loaded and a 3-0 lead on Lincecum last week, he has thrown 13 straight scoreless innings (counting him striking out three straight batters with the bases loaded in the first inning against the A's as an inning) with 16 strikeouts and only four hits allowed.
We'd be remiss to exclude the fact that the Dodgers' offense is flat-out awful right now -- as they don't have Matt Kemp and lost Andre Ethier Wednesday -- and the A's entered Wednesday ranked 25th in the majors in runs scored. So it's possible Lincecum is just feasting on weak offenses.
Then again, he had some very bad outings previously this season against bad offensive teams. Also, we cannot discount confidence. Meaning, a lack of confidence once he got off to a terrible start to the season and now the possibility that a swagger will return. The hard-core stathounds scoff at such notions, but baseball players are human beings, not robots. Further, consider Lincecum not getting a contract extension to his liking yet when rotation-mate Matt Cain did. It's very possible Lincecum started to press really hard after his rough start to the season.
Throwing well in consecutive starts can do a lot to change that psyche.
If vintage Lincecum is back, the Giants look pretty scary. They're 4-12 in Tim Lincecum starts and 39-21 when he doesn't start. A return of The Freak translates those numbers into the best record in baseball.
For more baseball news, rumors and analysis, follow @EyeOnBaseball on Twitter, subscribe to the RSS feed and "like" us on Facebook.