The Lineup: Good day to be named Murphy; Trevor Bauer's debut comes Thursday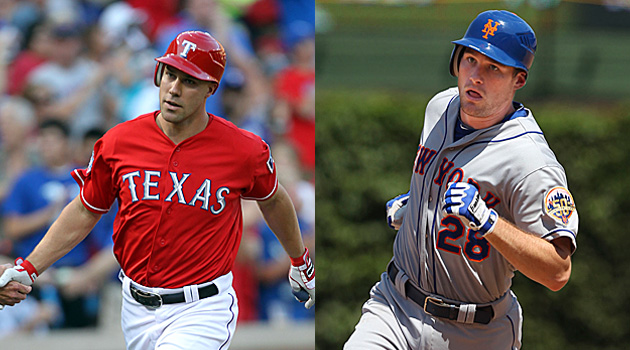 On a day with several big-name injuries, the Giants moved into a first-place tie with the Dodgers, having swept the Dodgers and allowing zero runs for the entire three-game series. Better yet for the Giants, an ace showed signs of life. We also saw the Angels destroy the Orioles while getting an incredible catch from phenom Mike Trout. As for the rest ...
Full Wednesday scoreboard with recaps and box scores for every game








3 UP

Daniel Murphy, Mets: The Mets were evidently a bit annoyed with dropping the first two games of their series against the hapless Cubs. They came out and pounded 16 hits, including six doubles and four home runs, scoring 17 runs. Murphy had the biggest day, hitting two homers and doubling once. He also contributed four RBI in the 17-1 win.

David Murphy, Rangers: This Murphy (no relation) had an even bigger day. David went 4-for-5 with two homers, three runs and five RBI in a 13-9 Rangers victory.

Lucas Harrell, Astros: Harrell entered the game with zero career complete games, and he went out and threw a complete-game shutout. He allowed six hits and four walks while striking out seven. His margin for error was paper thin, too, as the Astros only scored one run on two hits. Harrell actually loaded the bases in the ninth and was left in to finish the job. He did, striking out Nick Hundley.

3 DOWN

Ricky Romero, Blue Jays: With the rest of the rotation hurt -- though Henderson Alvarez is going to make his start Saturday -- Romero needs to step up his game. After all, he's regarded as the staff ace. Wednesday, though, the Red Sox had their way with him, pounding Romero around for eight earned runs in three innings. Worse yet, Romero walked six while striking out only one.

Jason Hammel, Orioles: Well, this outing may have single-handedly put the brakes on my campaign to have Hammel start the All-Star Game for the AL. The Angels dismantled him for eight runs on eight hits in just 3 1/3 innings. Yes, the Angles are one of the hottest teams in the majors, but Hammel's ERA is now a full run worse than Chris Sale's, not to mention that Justin Verlander will also likely be ahead of Hammel in the pecking order. Rangers manager Ron Washington may even choose Matt Harrison or Yu Darvish.
Johnny Wholestaff, Phillies: For those unaware, that's a made-up name to note an entire pitching staff. The Phillies had to try this route Wednesday night against the Pirates and coughed up 11 runs on 14 hits to Pittsburgh. On the plus side, seeing Cliff Lee pinch hit in the second inning was funny. Overall, though, the pitching staff squandered the chance for Chase Utley's triumphant return (3-for-5 with a home run) to result in a win.








Big-time debut: Trevor Bauer has been arguably the best pitcher in the minor leagues this season. In 16 starts between both Double-A and Triple-A, Bauer is 11-1 with a 2.23 ERA, 1.32 WHIP and 116 strikeouts in 93 innings. The phenom will take the hill for the Diamondbacks Thursday, just over a year after they drafted him third overall. The D-Backs greatly need him, too, as they just likely lost Daniel Hudson for the rest of the season. Bauer will face Jair Jurrjens (1-2, 6.75) and the Braves Thursday night. A Braves win would mean a sweep. 7:10 p.m. ET

The Unbeatable A.J. Burnett: The last time the Pirates lost with A.J. Burnett on the hill? May 2. Since then, they've won each of his nine starts. He is 7-0 with a 1.97 ERA in that span. He'll try to keep the good times rolling Thursday against Kyle Kendrick (2-7, 5.24) and the Phillies. 1:05 p.m. ET

First place against first place: A matchup between the first-place Reds and the tied-for-first-place Giants also brings us the best pitching matchup of the evening. It's Johnny Cueto (9-3, 2.21) against Madison Bumgarner (9-4, 3.10) out West. 10:15 p.m. ET
Thursdays probable pitchers








• Stuffing the ballot "box:" Major League Baseball issued a press release saying that there were 2.9 million All-Star ballots cast on Tuesday, which is the highest one-day total since 2008. It's a furious voting finish. Thursday is the last day for voting, so head over to MLB.com if you wish to cast your votes.

• On Deck, minor-league version: Thursday, Jamie Moyer will square off against top Mariners' pitching prospect Danny Hultzen in a Triple-A game. There's a backstory here, and it doesn't involve the 49-year-old Moyer facing someone who has born when he was already a veteran in the majors. It is that Moyer had criticism for several facets of Hultzen's performance in the 2011 Super Regionals. Hultzen was pitching for the University of Virginia and Moyer was working the game for ESPN. Thenewstribune.com has more.

• John Rocker, political columnist: No, I'm not joking.

• Phillie Phanatic, most sued mascot in baseball: Wow, the Phillie Phanatic has been sued for more than $2.5 million over the years, according to "A Brief History of Sports Mascot Lawsuits" on bizofbaseball.com. Royals mascot Sluggerrr the Lion was recently sued, too. I'll make sure to keep an eye on ol' Sluggerrr (no typo there) during the All-Star festivities.

• Japanese fans once attacked Colonel Sanders: The Hardball Times has the long and entertaining story of what once drove a group of baseball fans in Japan to attack a statue of Kentucky Fried Chicken's Colonel Sanders.

For more baseball news, rumors and analysis, follow @EyeOnBaseball on Twitter, subscribe to the RSS feed and "like" us on Facebook.