Chipper Jones named Matt Kemp's All-Star replacement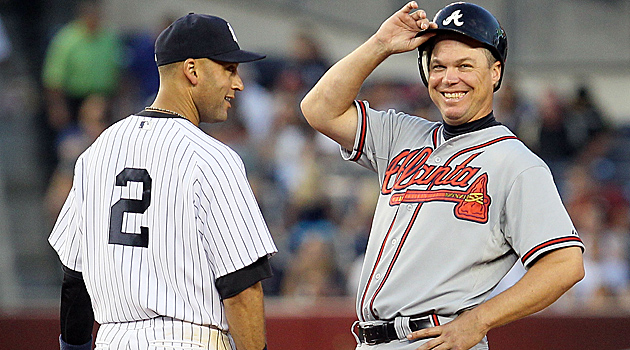 Future Hall of Famer Chipper Jones will get his All-Star send off in Kansas City next week, and he won't need to win the Final Vote in order to do so.
Full All-Star Game coverage
Dodgers center fielder Matt Kemp won't be playing in the All-Star Game, as his hamstring problems persist, and Kemp's replacement on the National League team will be the Braves' 40-year-old third baseman, Jones. Major League Baseball announced the move Tuesday afternoon, in addition to revealing that Ryan Braun will start in Kemp's vacated outfield spot.
The timing of his announcement definitely throws a wrinkle in the NL Final Vote. Jones is currently leading. Now he's taken out of the equation, and it's very likely Jones was taking away thousands of votes from Braves fans that could have gone to Michael Bourn.
Bourn, Aaron Hill, David Freese and Bryce Harper remain on the Final Vote ballot. When I posted on the subject Sunday, I opined that Jones should get the nod based upon sentiment, this being his 19th and final season in a storied career. Now, I'll be throwing my support to the wave of the future and Bryce Harper.
This will be the eighth All-Star Game for Jones. He has one MVP and has finished in the top 10 of MVP voting five other times. Heading into Tuesday night, Jones has a career line of .304/.402/.531 with 460 homers, 1584 runs, 1590 RBI and 534 doubles.
This season, Jones is hitting .291/.372/.456 with six homers, 23 runs and 29 RBI.
Also an interesting fact: Chipper Jones has never played in Kauffman Stadium, the host of this season's All-Star Game.
For more baseball news, rumors and analysis, follow @EyeOnBaseball on Twitter, subscribe to the RSS feed and "like" us on Facebook.