Welcome to the South Side of Chicago, Kevin Youkilis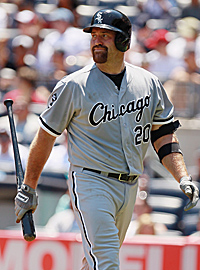 New White Sox third baseman Kevin Youkilis has discovered what every baseball fan in the Midwest knows to be a fact. Check out his quote, from suntimes.com:
"I didn't realize 'till now that you're second fiddle to the Cubs so there's not as much news. I kind of knew it but I figured this team's in first place, their team's in last place, I thought we'd get a lot more publicity. But I've been in a place [Boston] where there was way too much so I'd rather be under the radar right now.''
Youkilis was discussing how he was pleasantly surprised to see more media now that the White Sox have returned home from a road trip. Still, I thought that quote was kind of funny. Living in the Midwest (Indianapolis area), it's pretty well accepted that the Cubs get more media coverage, have higher attendance and usually net bigger TV ratings.
The records never matter, as little changes (again, generally speaking). This season, the White Sox are in first and the Cubs are in last. The White Sox are 25th in attendance, and the Cubs are eighth. And have any White Sox gotten as much hype as Anthony Rizzo?
That's just the way things are with these two ballclubs.
Now, here is where White Sox fans who hate the Cubs -- probably due to the higher level of coverage -- will tell you that all the "real baseball fans" are White Sox fans and that the Cubs fans are "only at Wrigley Field for the scene." In my experience, I've met lots of "good" Cubs and White Sox fans. Generalizing the entire fan base is a fool's exercise. It's more fair to simply say if there wasn't a "scene" at Wrigley Field, the fan bases would be basically the exact same. The "scene" just adds buffoonery and stigmatizes the entire fan base -- including loyal, knowledgeable fans -- which isn't fair. After all, Cubs and White Sox fans are almost all Bears, Blackhawks and Bulls fans. They don't just transform into different people in the summer.
Regardless, welcome to the South Side, Youk. It appears you're already enjoying it and learning the lay of the land.
For more baseball news, rumors and analysis, follow @EyeOnBaseball on Twitter, subscribe to the RSS feed and "like" us on Facebook.