First ever Eye on Baseball fantasy Home Run Derby competition among bloggers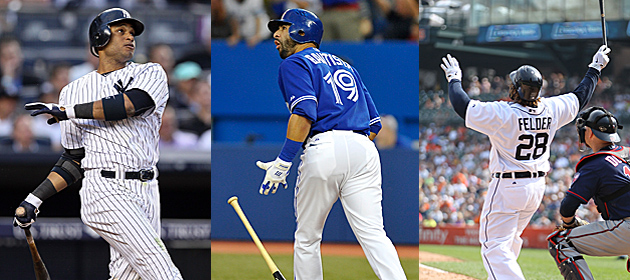 KANSAS CITY -- The Home Run Derby is Monday night at 8:00 p.m. ET in Kansas City. We knew that. We also know that the derby is fun and unpredictable. So why not put something on the line? And that something is pride, in a friendly competition among co-workers.
Dayn Perry, C. Trent Rosecrans and myself -- a.k.a. the three CBSSports.com Eye on Baseball bloggers -- did a fantasy-type "draft" and selected two combatants each for Monday night's derby. That leaves two contestants undrafted, so we'll call that team "The House."
The Teams
Rosecrans: Jose Bautista (first overall pick), Carlos Beltran
Snyder: Robinson Cano, Carlos Gonzalez
Perry: Mark Trumbo, Prince Fielder
The House: Matt Kemp, Andrew McCutchen
The scoring is simply the most total home runs Monday night. Obviously whoever picked the eventual winner has the best chance to win, but you never know. It wouldn't be even remotely surprising for The House to win, either, as we all know how unpredictable this thing can be and that Kemp and Cutch both pack plenty of punch.
So ... who is going to win and retain EOB bragging rights?
For more baseball news, rumors and analysis, follow @EyeOnBaseball on Twitter, subscribe to the RSS feed and "like" us on Facebook.