K.C. fans steal show in Home Run Derby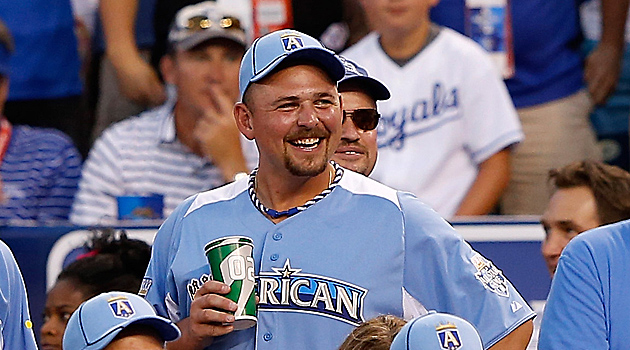 Billy Butler gets a good laugh as his fans give Robinson Cano the business.(Getty Images)
KANSAS CITY -- Prince Fielder won the 2012 Home Run Derby, but he wasn't the big story. Nope, that story involved Royals All-Star designated hitter Billy Butler, AL Home Run Derby team captain Robinson Cano and the Kansas City fans. And it would appear the fans won.
Cano incited the fans by neglecting to choose Butler for the AL derby team. And -- just as Diamondbacks fans did last year to Fielder for picking his teammate Rickie Weeks over Justin Upton -- the fans booed and booed Cano. They booed every time he was shown on the video board. They booed lustily and did not stop.
More on All-Star Game
Related links
But something separated this year's derby. Well, two things. First of all, the loudest the crowd roared all night was every time Cano made an out. And he made 10 of them without hitting a single home run. When he made that 10th and final out, clinching a shutout, the stadium was a veritable madhouse. This was the Royals' fans victory, as far as they were concerned.
As for the other principles involved, they were political and professional.
"I'm not upset at all [about not being chosen]," Butler said. "I'm happy to be here and it was a great time tonight."
He also made sure to point out that he's very happy to be loved by the Royals fans and he loves being a Royal.
"No, this is for the fans and that's what they feel like," Cano said, when asked if he was bothered by the reaction.
Butler also got Cano's back, to an extent.
"He handled it professionally," Butler said, also flatly saying no when asked if he would have taken the bat from Cano, had Cano offered.
"That's not my place," Butler said.
Cano was told that he promised to name a Royals player to the team, but he replied that he had his team assembled before the AL All-Star team was named, and that he wasn't sure they'd have a worthy candidate. That's a defensible stance, considering that the Royals could have had Alcides Escobar or Jonathan Broxton as their All-Star representative. Escobar is a great shortstop, but he would be a laughable choice for the Derby and Broxton is a pitcher.
And though the fans may have won in their minds, Cano seems to believe he got the last laugh.
"We ended up with the trophy," Cano noted, as if to remind everyone the team he chose performed beautifully, even if he didn't.
For more baseball news, rumors and analysis, follow @EyeOnBaseball on Twitter, subscribe to the RSS feed and "like" us on Facebook.