The irrational anger toward Mark Appel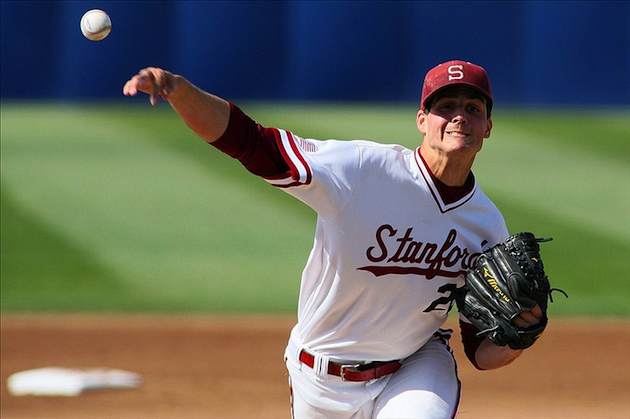 Be angry at the process, not Mark Appel. (US Presswire)
As Trent has already noted, the Pirates failed to come to terms with Stanford right-hander Mark Appel, the eighth-overall pick of the June draft.
Needless to say, Pirates fans aren't happy about this. Disappointment is certainly an appropriate emotion, but some have taken it to unfortunate extremes. Here's a sampling from Twitter ...
@MAppel26 Hopefully #tommyjohn is in your future...

— Ronnie Biem (@CouldBeRonnieB) July 14, 2012
And ...
@MAppel26 what do you think God would have to say about your GREED? 3.8mil. I'll be rooting for your career ending injury

— Brendan Booth (@boothloaf304)July 14, 2012
I could easily go on until the scroll bar at right is but a sliver, but I won't. If you're morbidly curious, then the relevant Twitter search turns up lots more, much of it not fit for these august digital pages and much of it worse than you'd think.
It must be said at the outset that this isn't about the Pirates. Every fan base has in its midst a non-zero number of drooling sub-morons. This isn't about that. This also isn't about how the immediacy of social media can rob us of whatever moderating instincts we may possess. All of that's true, and all of that is obvious. Rather, this is about the ignorant kind of populism that seems to take over in these situations.
Whether Appel's choice was a wise one or not will be revealed in time. Ultimately, though, he's gambling that he'll pitch well enough next season to net him a higher draft slot in 2013. Might happen, might not. But it's a business decision at heart, and anyone who takes it as a personal affront is greatly lacking perspective.
Let us remember: this young man is being ridiculed for going back to school, continuing to play baseball at the amateur level and working toward his degree -- his Stanford degree. College-football fans have been known to wail to the heavens when a player dare leave Hometown U. early in favor of an NFL paycheck. And now we see the this, which reveals the whole thing to be a "damned if you do, damned if you don't" conga line of nonsense.
Puzzled and discouraged by Appel's decision? Fair enough. Think it unwise? You can make a compelling case. But do you think he's somehow "greedy" and morally bankrupt by passing on the Pirates' offer and choosing to return to Stanford? Then you're part of the problem. Again: Mark Appel made a calculated business decision. He did not beat your dog with your grandmother. And while we're in direct-address mode, no, you wouldn't "play the game for free" given the time demands of the major-league ballplayer, and even if you would, no team would have you.
So if you still require a target for your righteous indignation, then blame MLB's hard slotting system, which prevents teams like the Pirates from paying market rates for players with leverage, like Appel. Nothing, though, stopped the Pirates from budgeting for a deep over-slot offer to Appel, but presumably they didn't think he was worth it. Are the Pirates paragons of greed and avarice for arriving at such a decision? No, just as Appel isn't the same for thinking better of their offer.
Hordes will say they would've accepted such an offer, but the hordes have never been in a similar situation. Were you "drafted" and assigned to an employer not of your choosing in a place not of your choosing and then presented the choice to accept an aritificially depressed offer or, failing that, not work in your chosen field altogether? No? Then you can't relate to Appel's dilemma.
If, from that foundation of ignorance, you choose to personally assail this 20-year-old who is choosing to advance his education, then you're far more repugnant than what you imagine Appel to be.
If, though, you're like this guy ...
@MAppel26 I'm a huge #pirate fan and really wanted to see you sign. But...good luck your senior year, hope it works out for you. #notbucn

— Todd Homer (@elamenop18) July 14, 2012
Then congratulate yourself on being a fully formed, socially adjusted adult not given to banging spoons on high-chairs over the personal choices of complete strangers.
For more baseball news, rumors and analysis, follow @EyeOnBaseball on Twitter, subscribe to the RSS feed and "like" us on Facebook.